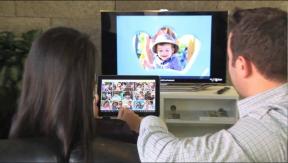 Eagan, Minn. – Capitol has begun carrying the complete line of Crimson AV mounting equipment, which ranges from products for do-it-yourself homeowners to experienced professional installers.
"Our installation customers range from one man bands to multi-location integration specialists, but the one thing they all have in common is a need for the widest range of options for any installation scenario that comes up," commented Curt Hayes, Capitol's President and CFO. "Crimson AV is just what the doctor ordered. Their broad selection of mounting equipment and accessories covers all the bases, and their quality is beyond reproach. We're glad to have them on the Capitol team."
Under the terms of the agreement, Capitol now offers Crimson AV's complete selection of single and multi-monitor mounts, as well as the company's wall systems and camera mounts.
"Crimson AV is committed to giving our customers personalized support to back up the best selection of mounting solutions in the business," said Vlad Gleyzer, president, Crimson AV. "Similarly, we are careful to work only with industry pros who share our focus on customer service, which is why we were eager to work with Capitol."