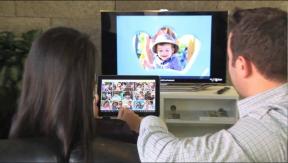 North Reading, Mass. – Premium audio supplier Bowers & Wilkins unveiled its new opening-price series of in-room speaker series, which adds technology from the company's higher end lines to improve performance.
The 600 series, shipping in March, includes the floorstanding 683 at $1,650/ pair, the smaller floorstanding 684at $1,150/ pair, and the $700/pair 685, which can be placed on a stand or bookshelf. The series also includes the $550/pair 686 bookshelf, which is the most compact speaker in the series. The HTM61 center channel retails for $750 each, and the HTM62 center channel retails for $450 each.
All six models will join a trio of 600-series subwoofers, and all will be available in black ash finish.
New technologies trickling down into the series include double-dome tweeters derived from the company's CM10 speaker. The tweeter features two separate aluminum domes, the second with its center portion cut out. The second dome is glued to the rear face of the first dome to deliver lightness and rigidity.
A new tweeter-decoupling design developed for the 600 series physically separates the double-dome tweeters from the cabinet by using a gel ring, which prevents resonances from transferring between the baffle and tweeter. The design boosts clarity and delivers "outstanding imaging and dispersion," the company said.
"The new models sound bigger with less dynamic compression," mainly because of the new tweeter design, the company added.
Anti-resonance plugs for mid/bass drivers, used in the company's PM-1 speaker, are also new to the series. They deliver smoother response and lower distortion when driven hard, the company said.
Another new technology developed specifically for the new 600 series is a dual-layer aluminum bass driver, which features an aluminum bass cone reinforced with a second layer of aluminum around its periphery to deliver more effective damping and deliver a higher break-up frequency to reduce distortion. The dual-layer aluminum design appears in the top floorstanding model.
Pricing rose from $25 each to $100 each compared with their predecessors.
Latest posts by Joseph Palenchar
(see all)