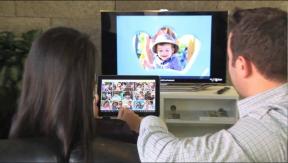 New York – Boston Acoustics wants to rebuild its share of the component-speaker market to complement its strong growth in active soundbars.
In an update with the media this morning VP/GM Mitch Nollman outlined the brand's marketing plans and product rollout.
To build its component share, the D+M brand is investing more in product development, making available this month its new flagship M series of in-room speakers, which are priced up to $2,500/pair, and focusing M series distribution on A/V specialists eager to offer a line that differentiates them from on-line retailers and Magnolia, Nollman said. The brand, whose legacy is in component speakers, ignored the specialty channel in the recent past, Nollman said, citing the brand's past distribution, which included Circuit City.
In component speakers, "we lost our way and are coming back," he said of the brand's changed-over product assortment and D+M's changed management.
To build distribution through specialists, Boston Acoustics is joining sister brands Denon and Marantz in a series of 10 to 12 dealer-roadshow events through the end of January to show off the M series and "remind dealers of what else we have," Nollman said of the brand's full gamut" of products. The selection includes components speakers, active soundbars, sub/sat systems, in-door architectural speakers, and outdoor speakers.
Globally, about 50 percent of the brand's volume is in soundbars and, despite a surging soundbar market and flat component-speaker market, the brand hopes to keep the ratio the same, Nollman said. In the U.S., soundbars account for about 75 percent of the brand's volume.
Boston's soundbar sales include a soundbar integrated into a TV cabinet launched last year by furniture-maker Bassett. Bassett promotes the product and brand in its advertising, Nollman said.
In other initiatives, Boston Acoustics is rolling out its first automated merchandising display, which plays video clips to demonstrate the brand's $499-everyday compact 2.1-speaker SoundWare XS Digital Cinema with virtual surround and stereo Bluetooth. The display is rolling out to Best Buy, P.C. Richard, and Fry's. Shipments of the 2.1 system were delayed until recently to coincide with the automated display "to launch it right," Nollman said. The shelf-top display, which can be configured in 2- and 4-foot widths, makes the system stand out because so few other suppliers do anything like it, he said.
Boston Acoustics is considering a similar display for soundbars.
In product developments, the company began September shipments of two previously announced soundbars, which connect to the audio outputs of TVs for simple setup. They are the $199-everyday TVee10 without subwoofer and $349 TVee 26 with 6.5-inch wireless subwoofer, both with Dolby Digital 5.1 decoding and proprietary virtual surround processing.
In October, the brand shipped its first AirPlay speaker, the $399 MC200Air, to wirelessly stream music via home Wi-Fi networks from Apple's mobile devices and iTunes-equipped computers. The speaker system also incorporates embedded Wi-Fi, DLNA networking with PCs and smartphones, and Apple-certified iPod/iPhone/iPad-iPad USB port to change Apple devices and play their music when connected.
The brand changed its mind about launching a previously shown wireless multiroom-audio system, which consisted of tabletop speakers that wirelessly stream music from a one-piece tabletop music system equipped with AM/FM tuner, 30-pin connector for a docked iPod or iPhone, and stereo Bluetooth. The brand opted not to ship the product because of Apple's switch to an 8-pin Lightning connector on the latest Apple devices and because the system used a proprietary wireless technology at a time when Apple's wireless AirPlay is gaining acceptance, Nollman explained.
In all of the audio markets in which it plays, the brand continues to focus on three key elements, Nollman said. They are quality sound, ease of use, and a good value for the dollar." Boston Acoustics "will never be the cheapest," he explained, but it will offer "the best value at a price point in terms of acoustics and fit and finish.
Latest posts by Joseph Palenchar
(see all)