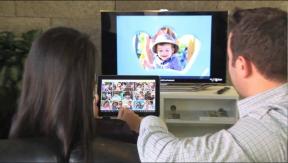 Irvine, Calif. — BenQ America said it will ship this month three DLP-based SmartEco projectors for small- to medium-sized spaces.
SmartEco models MS517 ($450 suggested retail), MX518 ($550) and MW519 ($650) all feature increased brightness to 2,800 ANSI lumens, an improved contrast ratio of 13,000:1, longer lamp life of up to 6,500 hours, and SVGA (MS517), XGA (MX518) and WXGA (MW519) resolutions.
The projectors also support 3D Blu-ray via HDMI 1.4 and Nvidia 3DTV Play (MW519) for home entertainment, business and education applications.
"With our latest projectors, we're combining effortless 3D connectivity with best in class lamp life to offer tremendous value to our customers — all at a fantastic price tag," stated Bob Wudeck, BenQ America retail and e-commerce director. "Our elegant, eco-friendly and high-performing next-gen projectors allow users to enjoy a rich experience in any setting."
SmartEco technology in the models is said to deliver an estimated lamp life of 6,500 hours. SmartEco mode automatically adjusts the lamp power to maximize power savings by delivering the best contrast and brightness performance using only as much light as needed.
All three models also feature a fast cooling time to minimize the risk of heat damage. If the projectors are accidentally switched off, an instant restart feature provides users with a 90-second period to turn them back on, BenQ said.
Other common features include sleek, piano-black cabinets and DLP BrilliantColor technology.
Model MW519 adds support for Nvidia 3DTV Play, which allows users to connect a laptop or desktop equipped with Nvidia 3D Vision to the projector to view games and other content at HD resolutions.