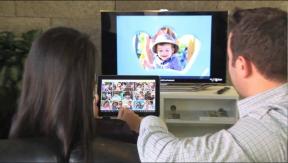 New York – Taiwan-based TV manufacturer AmTran officially unveils the next phase of its JVC-branded TV line here Wednesday with a 55-inch FullHD LED edge-lit set that integrates, smart TV internet connectivity, 3D capability and advanced built-in sound.
Among the line highlights is the company's first 55-inch connected ultra-thin LCD TV, model JLE55SP4000, (shipping this month at a $1,300 suggested retail), featuring 3D and LED edge lighting.
The set is also billed as the first TV to feature a built-in Slingmedia app and AmTran's Xinema Sound 3D technology.
The former is an app from EchoStar's Slingbox unit that streams content to the TV screen from a Slingbox device connected to an entertainment system in another room or even another location.
The later audio technology "applies a number of psychoacoustic and digital signal processes that enhances sonic performance, negating the need for an outboard audio system."
The new JLE55SP4000 is the first model in the new "BlackSapphire" series of HDTVs, following up the BlackCrystal CCFL-backlit LCD TV line introduced last year.
The ultra-thin bezel design measures less than 0.5-inches thick.
The set's picture quality is enhanced with a 120Hz CrystalMotion frame rate for smooth fast motion images, FullHD 1080p resolution and a 20 million:1 dynamic contrast ratio. Also included is circuitry for ambient light sensing to adjust brightness output for maximum picture quality and power efficiency.
For 3D, the JVC JLE55SP4000 presents 3D images to viewers wearing passive "battery-free" 3D glasses, like those used in movie theaters. The set ships with four pair of the glasses.
The set was also designed for a high-value audio experience using AmTran's proprietary XinemaView system.
Sound is said to be enhanced to deliver a full surround sound effect without the need for an external soundbar or 5.1-channel speaker system.
The 45-watt sound system features a built-in woofer and the aforementioned XinemaSound 3D acoustic and post processing technologies.
AmTran said the XinemaSound 3D's proprietary remixing technology applies an equal-loudness contour to the sound, to compensate for the human brain's higher sensitivity to midrange frequencies than to low- or very high-frequency sounds.
Ultra-low bass frequencies played at the same volume as the human voice sound weak by comparison, especially through the typical TV speaker, the company said. JVC's Psychoacoustic Bass Extension produces a perceptually balanced sound mix that omits the bloat or strain of conventional bass-boost technologies, according to AmTran.
"The JLE55SP4000 delivers sound that is a cut above HDTVs at any price, let alone those at such an affordable price point," said Drew Pragliola, AmTran Video sales and marketing VP. "The typical HDTV's sonic output is weak, so we set out to change the landscape with this model. Looking ahead, our new BlackSapphire line will continue to bring consumers a superior level of audio performance, along with a brilliant 3D picture, and Internet connectivity at a price the average consumer will appreciate. It's a high performance HDTV selling for an everyday price."
The JLE55SP4000 incorporates what AmTran calls "the Internet Connected Experience (I.C.E.)" with built-in Wi-Fi 802.11n connectivity and both preloaded and downloadable ICE apps. These include: Netflix, YouTube, Vudu, Pandora and others.
The set's remote control includes a built in QWERTY-style keyboard located on the back, to easily key in search commands and other text.
The set will also play digital photos, home videos and music, and includes two USB input ports for flash drives and other devices storing entertainment file data.
Also included are four HDMI inputs, an antenna input, component and composite video inputs, one VGA/RGB PC input, one 3.5mm music/PC sound input, one digital audio optical output and one stereo audio output.
All HDMI and USB ports are located along the side of the set for fast access.