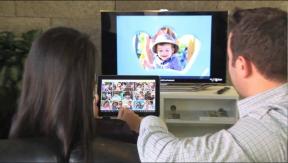 New York — Amazon used a press conference here Wednesday to underscore its intention to disrupt the smart-TV market in the same way it displaced the e-reader and tablet markets with its Kindle products.
The e-commerce giant formally unveiled the Amazon Fire TV — a tiny set-top smart TV adapter that is targeted to compete not only against other set-top devices, like Chromecast, Roku 3 and Apple TV, but some of the most advanced all-in-one smart TVs as well.
The Fire TV, which goes on sale today for $99.99 through the online merchant's website, measures just 0.7 inch thin and supports Wi-Fi to stream up to 1080p FullHD video to a TV via an HDMI connection.
Peter Larsen, Amazon Kindle VP, said the Fire TV was designed for simplicity of use, while speeding up the smart-TV content selection process by eliminating bottlenecks common to other platforms.
"We need to invent and simplify on behalf of customers," Larsen said. "We created an experience that uses state-of-the-art power and performance in the service of simplicity."
The Fire TV includes a quad-core processor and Adreno 320 graphics engine that processes 57 billion floating point instruction per second for three times the processing power of the Apple TV, Chromecast and Roku 3, according to Amazon.
The architecture allows fast graphics loading and fluidity.
The device streams up to FullHD 1080p with Dolby Digital Plus Surround Sound.
The box will access Amazon's own movie and video-streaming services, including Amazon Instant Video and Amazon Prime Video, as well as a large stable of popular competitive services: Netflix, Flixster, Hulu Plus, Vevo, Showtime, YouTube, Crackle and WatchESPN, and music services Pandora, Amazon MP3, TuneIn, iHeartRadio and more.
Users can also view photos uploaded from their smartphones to Amazon's Cloud service.
The company will continue to update and add services over time, Larsen said.
In addition, the box will offer access to an extensive collection of affordable video games, including some developed by Amazon's own in-house studio, like "Sev Zero," a third-person sci-fi shooter. Among the third-party titles available will be such popular games as "Minecraft."
Games can be played with an optional $39.99 controller, and, in most cases, with the supplied remote or a Fire TV app for smartphones and tablets.
Amazon said the average cost of paid video games on its platform is $1.85.
The remote includes a built-in mic to support voice control to find and select entertainment content by spoken commands.
The voice-control feature allows skipping the hunt-and-click keyboard method employed by most other smart-TV adapters.
The Amazon Fire also packs a number of exclusive services and features, including an ASAP feature that predicts the shows a viewer will want to watch based on viewing patterns and gets ready to stream them upon command. Amazon pointed out that the recommendations are service agnostic and will, in fact, present the option to select the exclusive Amazon Prime series "Alpha House," along side the Netflix exclusive "House of Cards" on the same screen.
For families with kids, a Freetime feature allows parents to select their children's favorite shows in a cue for easy access, set time limits on viewing and block access to undesirable content.
Latest posts by Greg Tarr
(see all)