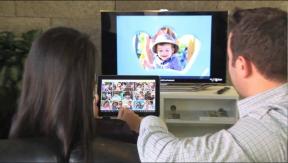 Los Angeles — DDD Group, developer of 3D technologies, said Wednesday that its Yabazam dedicated 3D video-on-demand (VOD) subscription movie service has been added to Samsung 3D smart TVs in the United States.
The DDD Group's Yabazam 3D VOD app and service begins appearing in Samsung 3D smart TVs this week, the company said.
The Yabazam service costs $9.99 per month and allows unlimited viewing of the original 3D programming available from Yabazam.
The Yabazam 3D app is available through the television's Smart Hub content portal and can be used on the all Samsung 3D smart TVs.
Yabazam features a wide variety of 3D content, including independently produced 3D movies, documentaries, music videos and animated features from producers around the world.
The DDD Group said it is aggressively growing the range of 3D programs available on Yabazam and is releasing new 3D titles on a weekly basis.
Chris Yewdall, DDD CEO, said, "Samsung has been an innovator in 3D technology and a leader in 3D television sales. We're excited to expand our Yabazam 3D subscription service to a brand that appreciates 3D and to its customers who have shown great interest in watching compelling 3D entertainment in the comfort of their living rooms."
Yabazam launched its 3D subscription movie service for LG 3D TVs in early January.
Yabazam titles are available for rent outside of the US using the free Yabazam 3D video streaming app, which is available on Samsung 3D smart TVs in 12 countries and LG 3D smart TVs in 13 countries, according to a DDD Group statement.
The United States marks the first subscription-based market for DDD services.
The Yabazam 3D app has been downloaded more than 260,000 times and averages more than 2,000 3D movie viewing sessions per day, DDD said.
Latest posts by Greg Tarr
(see all)