CES 2022 LAS VEGAS, NEVADA, UNITED STATES, JAN 5, 2022– Lenbrook Americas announced today the immediate availability of the DALI KATCH G2, the new portable Bluetooth speaker that builds upon its predecessor, the DALI KATCH. The KATCH G2 features DALI's stylish Danish design and renowned build quality and is proof listeners should not compromise on sound quality or design when choosing a Bluetooth portable speaker.  "Since its launch, the KATCH has been a runaway success", says Jason Zidle, Lenbrook Americas' new DALI Brand Manager. "It's only natural that we improve upon the KATCH. With its exceptional sound, contemporary colors, and elegant design, the KATCH G2 is the ultimate portable package, offering a true DALI sound experience." The KATCH G2 (US MSRP $499.99) is offered in three contemporary colors: Caramel White, Iron Black and Chilly Blue.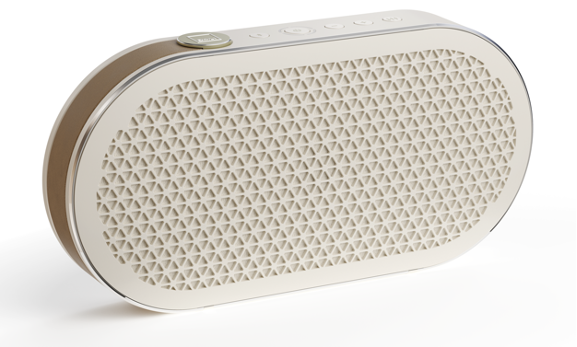 Sound Construction
The aluminum body of the compact and portable DALI KATCH G2 has enough inner volume for its dual woofers to deliver a considerable amount of low-end punch. The sound from the DALI KATCH G2 is rendered by a 2-Way stereo speaker system with a larger passive membrane supporting the woofer in the otherwise closed cabinet. In contrast to the original KATCH, the DALI KATCH G2 cabinet now has an internal wall dividing it into two inner volumes, creating improved channel separation.
By placing a full set of drivers on both sides of the DALI KATCH G2, an almost perfectly omnidirectional dispersion pattern is created. True to DALI heritage, this creates an immense prime listening area whether used indoors or outdoors. This effect is further enhanced by the internal wall dividing it into two inner volumes, for improved channel separation. Clear and Warm EQ settings permit tailoring the performance to personal tastes, with Warm adding to the bass presence.
Connection Made Easy
The KATCH G2 incorporates Bluetooth 5.0 and higher audio quality with Qualcomm aptX, aptX-HD, and AAC. The upgraded Bluetooth allows for a stronger connection with less dropouts, so listeners can be further away for the device with continued easy listening. The devices can connect using the traditional Bluetooth method, or through using NFC (near-field connection).
The DALI KATCH G2 is equipped with a 3.5mm stereo mini-jack input, making it easy to connect a non-Bluetooth device. The mini-jack input is auto-sensing, eliminating the need for an additional button to play music. Pressing the Bluetooth button with the mini-jack connected allows listeners to toggle between the mini-jack input and Bluetooth. Directly next to the mini-jack input is a USB charge connector and a power connector. The USB charge connector not only allows for charging on-the-go but is also able to drive a Chromecast Audio dongle or Amazon Echo for easy home network integration.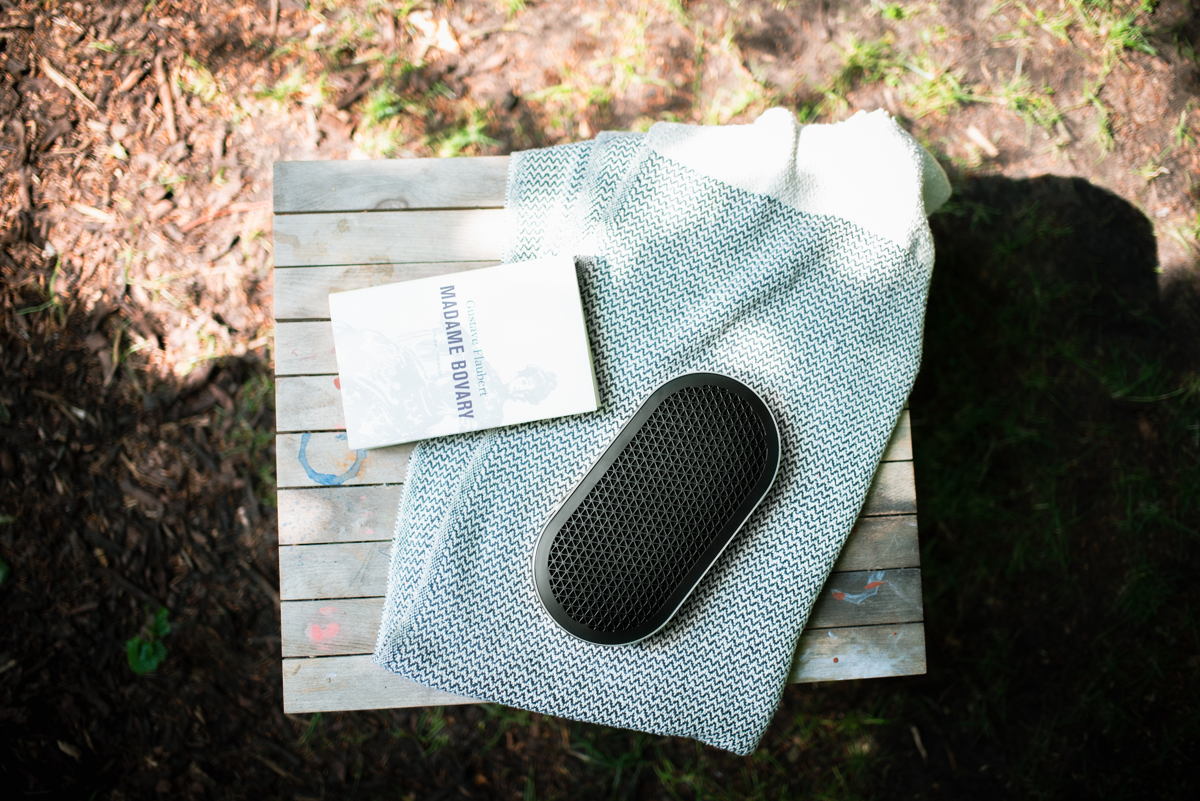 Two make a stereo pair
Another new feature is the ability to use two DALI KATCH G2 units, paired together via Bluetooth, to form a wireless dedicated left/right stereo pair.The connection uses one DALI KATCH G2 as the primary and the other DALI KATCH G2 as a secondary unit. The TWS (true wireless stereo) mode has several advantages: Besides adding true stereo imaging, the extra drivers work together to deliver a significantly higher undistorted sound pressure level and improved bass quality and extension – perfect for parties.
The two channels are powered by Class D amplifiers of 25 watts each, and DSP (digital signal processor) straightens the frequency response to near perfection.  The DSP's built-in DAC delivers a balanced stereo signal to the amplifier stage. This keeps the amplifier design simple, but effective, transforming up to 95% of the battery power to output power. The amplified audio signal is sent unfiltered to the woofer and via a simple crossover to the tweeter.
Under the Hood
Taking inspiration from the original DALI KATCH, the DALI KATCH G2 features solid rounded housing, with new design elements integrating a genuine leather carrying strap color matched to the front grilles, and a golden DALI coin logo affixed to the top of the unit. The KATCH G2's also has an increased battery life by 25 percent from the original KATCH. Listeners can enjoy music for up to 30 hours without recharging their device.
Within the sleek body are two tweeters that bring the high-end and upper mid-range to life, while a pair of woofers produce remarkably low and forceful mid-range and bass. Together, the two sets of drivers function in acoustic harmony with two oversized rectangular passive radiators to deliver a detailed, powerful, and coherent audio signal above and beyond anything heard before in a portable Bluetooth speaker.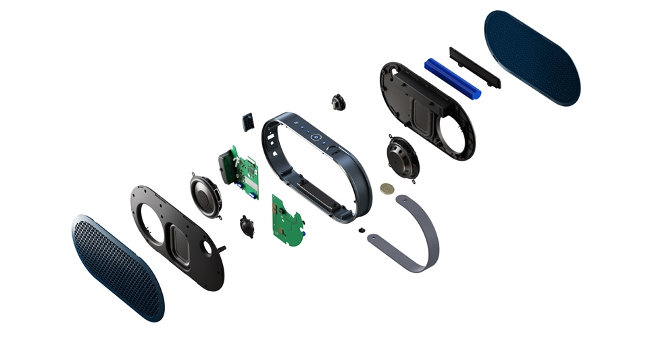 The large surface area of the 21 mm light-weight soft dome ensures better extension into the midrange frequencies and seamless integration with the woofer in the all-important mid-range. The strong neodymium magnet delivers high power handling and high sensitivity with detailed, accurate and agile high-frequency reproduction. The 3.5" woofer uses an aluminium membrane with a soft fabric dust cap and is housed in an unconventionally designed, ultra slim chassis to get maximum excursion into true low-frequency reproduction. The stiff aluminium cone allows the woofer to move as much air a possible even at mid-range frequencies, and the combination of aluminium and fabric works to lower surface resonances, retaining detail and clarity.
About DALI
DALI, (Danish Audiophile Loudspeaker Industries), was established in 1983, and grew out of Scandinavia's leading audio retail chain. Now distributed in 65 countries, and with more than 35 years of experience and global recognition, DALI holds unwavering dedication to sound that has advanced the state of the art, inspiring music and cinema lovers and challenging the competition to catch up. DALI is driven by raw passion for music and an honest reproduction in the domestic environment. Continuous development and refinement of new technologies remains core to DALI's quest to create the best loudspeakers in the world. For more information, visit DALI-SPEAKERS.com.
About Lenbrook
The Lenbrook Group of Companies is a privately held Canadian corporation who are the owners of NAD Electronics, PSB Speakers, Bluesound and Bluesound Professional. Formed in 1978, Lenbrook initially was a national distributor of electronics and communications products in Canada and has grown to become a leading global supplier to over 80 countries around the world.
Lenbrook Americas, a wholly owned subsidiary of Lenbrook International, is responsible for the sales and marketing of NAD Electronics, PSB Speakers, Bluesound and DALI in both the U.S. and Canada. Additionally, it also distributes Tivoli Audio and Master & Dynamic in Canada. Links:
DALI Website: http://www.dali-speakers.com
DALI Image Library: https://brandfolder.com/dali/press
Lenbrook Americas Website: http://lenbrookamericas.com
Latest posts by Hummingbird Media, Inc.
(see all)