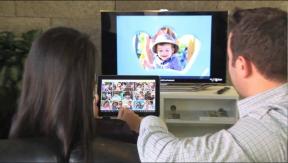 Fort Worth, Texas — RadioShack reported a net loss of $112 million for the third quarter, ended Sept. 30, compared with a year-ago loss of $47 million.
CEO Joe Magnacca said the red ink was a byproduct of the company's ongoing turnaround efforts, as it consolidated its product assortment and racked up higher inventory costs.
Net sales for the period fell 11.6 percent to $805 million and comp-store sales slipped 8.4 percent, reflecting declines across all major product categories; however, sales continued to grow for prepaid mobile phones, portable speakers, Apple Lightning-compatible cables and adapters.
Separately, the chain said it has secured $835 million in debt financing over the next five years and announced two key executive appointments: Paul Rutenis as senior VP and chief merchandising officer, and Janet Fox as global sourcing senior VP.
Rutenis, formerly senior VP and general merchandise manager for home at JCPenney, fills a 16-month vacancy following the departure last year of Scott Young. He will be responsible for leading all retail categories and will work with senior management "to drive a clear merchant strategy and alignment" with RadioShack's sales, marketing and operations divisions, the company said.
Fox, a former senior VP and sourcing director for JCPenney, joins RadioShack from Under Armour where she served as sourcing, quality, materials and technical design senior VP. In her new role she will oversee the chain's global supplier partnerships, optimize the sourcing process and international trade relationships, and will focus on improving operational efficiencies in sourcing.
The company has also promoted William Russum to VP and controller, succeeding Martin Moad who is retiring after 34 years with the company.
In a statement, Magnacca reiterated that his turnaround plans will take several quarters and that the company's financial performance will vary in the interim as it repositions its brand, revamps its assortment, remodels stores, improves operational efficiency and restores financial flexibility.
The new five-year debt refinancing will help "supplement liquidity and enhance financial flexibility for the continued execution of our operational turnaround," he said, while more than 100 new-format stores will be up and running by year's end and improvements in merchandising and store design will be deployed to all of RadioShack's nearly 4,300 stores beginning in the early part of the fourth quarter.
"We strongly believe our new retail and consumer-centric strategy has us heading in the right direction. We've made significant progress in the third quarter and will continue to focus on execution during the all-important holiday selling season," Magnacca said.
Latest posts by Alan Wolf
(see all)