For a company that essentially declared storefront retail dead, Amazon sure is getting physical.
After building bookstores, distribution centers and college-town delivery depots, the No. 1 e-tailer is filling the brick-and-mortar cracks with pop-up shops.
Following its first tentative forays into shopping malls three years ago, the Bezos bunch has been peppering the country with the 300- to 500-square-foot boutiques.
Now numbering 62 locations across malls and Kohl's stores in 21 states, the Amazon outposts are stocked with its proprietary Echo, Fire TV, Fire Tablets and Kindle devices, plus accessories, live displays and Amazon "experts" who can demo and explain the products.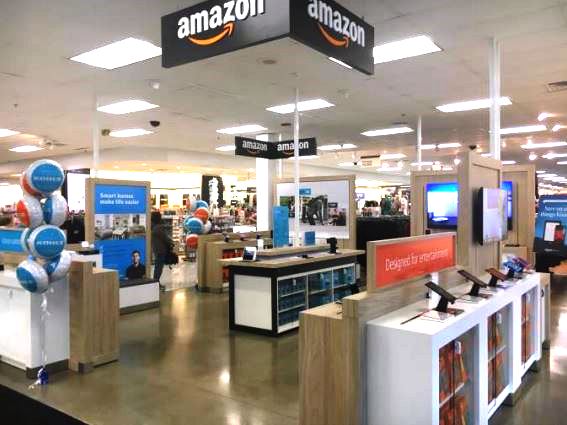 An Amazon Smart Home Experience at Kohl's shop
Some of the locations – the seasonal shops – are more transitory than others, while five accept Kindle trade-ins and one, in Miami, specializes in refurbished items.
The newest additions are the company's pilot Smart Home Experience At Kohl's spaces, which opened this month within 10 of the discount department stores in greater Los Angeles and Chicago.
In addition to the standard Amazon Pop-Up fare, the 1,000-square-foot sections also feature interactive smart-home displays and related services as proffered by attendants.
On a recent field trip in Chicago, Ray Young, an analyst with Gordon Haskett Research Advisors, visited six of the Experience shops and their adjacent Amazon return services desks.
Young described the display space as "a store-within-a-store pad with low, four-walled frames enclosing the product offerings." Products were grouped along the walls by their in-home use, with headings that included:
• Meet Alexa, featuring the Echo family of devices;
• Made for Any Room, displaying Kindles, Fire tablets and Bose speakers);
• Help Around the House, offering smart door locks, thermostats and security cameras; and
• Designed for Entertainment (Fire tablets).
Young's initial impression of the week-old shops? "Overall, we like the presentation of the Smart Home Experience," he reported, "but were a bit underwhelmed by the Amazon Return counters – albeit it is still very early on both fronts."
Latest posts by Alan Wolf
(see all)