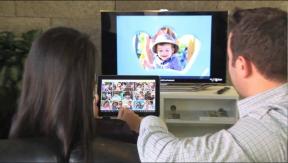 Osaka, Japan — Panasonic officially announced its end of plasma display panel production by the end of the year, as it reported higher sales, operating profit and net profit in its fiscal second quarter while it emphasizes more B-to-B categories.
Panasonic said it would end production of plasma panels in December, blaming the "rapid development of large-screen LCDs," and "severe price competition" due to the stock market crash and recession that began in September 2008.
While plasma TVs have been reviewed well with "firm demand from customers," the "drastic changes in the business environment' and declining demand for plasmas forced Panasonic to make its decision, the company said.
Panasonic reported a 3 percent gain in overall sales to 1,881.8 billion yen, operating profit increased to 82.4 billion yen from 48.8 billion yen, and net income improved to 61.5 billion yen from a loss of 698.0 billion yen year on year.
The performance reflected Panasonic's move away from consumer products. In the U.S. executives said during a tour of its new Newark, N.J., headquarters in late August that while worldwide sales of Panasonic are still split between business and consumer markets at 50/50, it is now 80/20 in North America.
In its financial report, Panasonic said that sales of digital consumer products including flat panel TVs decreased "with its severe global competition and weak demand." So it isn't a surprise that Panasonic's AVC Network — the CE division — reported sales were down 9 percent to 755.4 billion yen and its segment loss increased 3.3 billion yen to 16.5 billion yen for the first half.
Conversely, first-half sales and operating profits in non-consumer segments such as eco solutions, and automotive and industrial systems, were up.
Latest posts by Steve Smith
(see all)