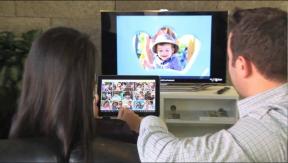 Sunnyvale, Calif. – The promotional organization behind Silicon Image's MHL standard for linking mobile devices to TVs via enhanced HDMI ports launched a web site Monday listing a variety of mobile gaming and computing apps that can be transferred to bigger screens.
MeetMHL.com offers a list of "featured apps and games," for consumers looking to explore the new capabilities of their mobile devices and TVs, projectors and PC monitors.
The new website also provides a complete overview of MHL technology, including:
• 15 Android-based mobile games and apps that have been tested to deliver a great "mobile-to-big screen" experience – best picture, great sound and a user interface that lends itself to the big screen;
• A list of MHL products available on the market today and where to buy online;
• And a simple guide to connecting an MHL mobile device to a TV.
The initial titles in MHL's "Featured Apps and Games" page links consumers to Google Play and other stores providing downloads of the apps and games for MHL mobile devices.
"With billions of smartphones and tablets shipped in the past few years, consumers have spoken – mobile devices are the indisputable computing platforms of choice," stated Judy Chen, MHL, LLC president. "Now, people are looking for new, effortless ways to get the most out of their devices and further integrate them into their daily routines."
The new website stresses that projecting mobile device data to a larger screen "leads to a longer engagement, taking advantage of the great graphics and sound in today's top apps," MHL LLC said.
The MHL technology also enables connected devices to simultaneously re-charge their batteries while content is being shared.
The initial launch titles include games from Big Fish Games and Glu Mobile, as well as games from developers across the Android ecosystem.
Titles include the following:
• Atlantis Sky Patrol by Big Fish Games
• Azada 2: Ancient Magic by Big Fish Games
• Beyond Ynth by FDG-Entertainment
• Bombshells by Glu Mobile
• Enigmatis by Big Fish Games
• Farm Invasion USA by Handy Games
• Fieldrunners HD by Subatomic Studios
• Monster Shooter by Game Lion
• Panic Flight by AMA
• Puzzle 2 by AMA
• Riptide GP by Vector Unit
• Samurai Vs. Zombies Defense by Glu Mobile
• Shine Runner by Vector Unit
• The Tiny Bang Story by Herocraft
• Townsmen by Handy Games
MHL LLC said any developers interested in working with MHL to feature their games or apps should contact [email protected]