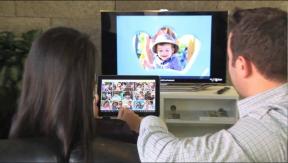 Buena Park, Calif. — Yamaha unveiled the two opening-price models in its step-up Aventage series of A/V receivers (AVR) and brought Mobile High-definition Link (MHL) connections to the series for the first time.
Like the two models they replace, the $699-suggested RX-A730 and $899 RX-A830 are 7.2-channel networked models with vTuner Internet radio, Pandora, Rhapsody, AirPlay, DLNA, and optional Bluetooth and Wi-Fi dongles. Also like their predecessors, they feature 4K by 2K passthrough and up-scaling from analog and HDMI sources.
The 7×110-watt RX-A830 will be available in stores in May, and the 7×105-watt RX-A730 will be available in April.
Their MHL connection enables an MHL-equipped smartphone to display its user interface and HD video on a connected TV. The phone will also stream 7.1-channel surround sound to the AVR. The MHL connection will charge the smartphone and enable navigation of the smartphone's UI via the AVR's remote.
Aventage (AV ENTertainment New AGE) receivers and Blu-ray players were first launched in 2010 and are said to offer stepped-up attention to engineering detail and many engineering refinements to "achieve peak performance at affordable price points." All Aventage AVRs, for example, use "carefully selected, high-quality parts to achieve optimum audio performance," the company has said. The parts include an Anti-Resonance Technology (ART) — a fifth foot at the bottom of the AVRs to improve structural rigidity, thus reducing distortion-causing vibration from the power transformer, power transistors, heat sinks and from sound emanating from speakers, the company explained. Similarly, aluminum front panels offer sonic benefits by reducing electrical current distortion from other system components, the company said. Aventage AVR prices extend up to a suggested $2,199.
The latest two Aventage models continue to offer a dialog-lift feature to place dialog at the center of the viewing screen, and both continue to offer a dialog level adjustment that lets listeners fine-tune the relative volume level of human voices compared to the level of sound effects and music delivered by the center channel.
Both also continue to offer Cinema DSP 3D Surround modes and Virtual Presence Speaker technology, which adds a pair of virtual front-height channels. Silent Cinema delivers 7.1 channel surround sound through any set of headphones. Both also integrate with multiple home-control systems and feature two-zone audio capability.
Like last year, Zone B HDMI out starts at $899 to provide simultaneous HDTV viewing in a main room and in a secondary room.
The $899 model, besides adding more power and Zone B HDMI out to the $699 model's capabilities, also adds Party Mode, which lets users power on all zones and play content from a single source to all zones by pressing a button.
The $899 model also adds powered zone 2, RS-232C interface and YPAO Reflected Sound Control (RSC) room correction with multipoint measurement in up to eight locations to widen the sweet spot. The $699 model corrects for a room's acoustics based on a microphone positioned at one spot.
Both models are compatible with the free Yamaha AV Controller app for Apple iOS, Android and Amazon Kindle Fire devices to deliver full AVR control. The apps includes Music Play functionality to enable AVR playback of music stored on smartphones and tablets.
Both also feature front-panel USB inputs that charge iPods, iPhones and iPads and capture their stored music in digital PCM form. The USB inputs can also be used to play music from portable storage and other compatible devices.
Both models also decode WAV 192/24, MP3, WMA, AAC and FLAC 192/24 from a PC or DLNA-enabled server and other devices.
Other features of the two AVRs include FullHD Audio decoding, HDMI 1.4a with 3D support and audio return channel, compressed music enhancer to improve the sound quality of compressed music, and video direct mode, which bypasses the receiver's video processing chips to speed up video by two frames per second and eliminates distracting delays to play action.
For one-touch AVR startup, the two models have four programmable Scene buttons (for BD/DVD, TV, Internet and radio), which activate the receiver's appropriate inputs and other settings, including surround modes, for the selected source.
Earlier this year, the company unveiled five new RXV-series A/V receivers, four of which were the first in that series with MHL. That series, priced at a suggested $299 to $849, starts networking features such as vTuner Internet radio, Pandora, DLNA networking and AirPlay at a suggested $449, with Rhapsody added at $649. 4K by 2K passthrough continues to start at $299 in the series, and 4K by 2K up-scaling from analog and HDMI sources remains in the $649 and $849 models.
Latest posts by Joseph Palenchar
(see all)