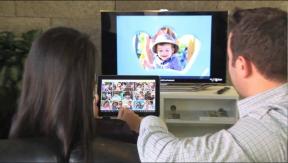 Buena Park, Calif. – Yamaha is adding Mobile High-Definition Link (MHL) connections to four of five new RXV-series A/V receivers (AVRs).
MHL is also expected to appear for the first time on top-end Aventage AVRs later in the year.
The opening-price model in the RXV series ships this month at a suggested $299, and the others RSV models ship in March and April. The series tops out at a suggested $849.
MHL connections, which start at a suggested $449, display an MHL-connected smartphone's user interface and HD video on a TV, charge the smartphones, and navigate the smartphone's UI via the AVR's remote.
In other changes, dual subwoofer outputs will appear in the RXV series for the first time, starting at $549 in the RXV-575, which is the starting price point for a seven-channel AVR.
The company also launched its first Bluetooth dongle, priced at a suggested $69, for use with current and past RXV-series AVRs and potentially with other AVR brands, the company said. The Bluetooth dongle plugs into an AVR's USB port.
The company continues to offer an existing $99-suggested Wi-Fi dongle, which connects to an AVR's Ethernet port. Like last year, the Wi-Fi adapter will be bundled with the series' top-end model, which this year is the $849-suggested RXV-775.
In another change, the series offers discrete amplifiers instead of chip amps at the opening rice of $299.
Like last year, vTuner Internet radio, Pandora and DLNA networking, which designed to stream audio from networked PCs and NAS drives, starts at a suggested $449, as does Apple's AirPlay. At $649, the company adds the Rhapsody music service.
4K by 2K passthrough continues to start at $299, and 4K by 2K up-scaling from analog and HDMI sources remains in the $649 and $849 models.
All four network models are compatible with the free Yamaha AV Controller App for iOS, Android and Kindle Fire devices to control the AVRs and enable playback of music stored on smartphones and tablets. For the RX-V775WA and RX-V675, the app also controls the AVRs' powered Zone 2 feature.
Via the Android app, users can push smartphone-stored music to the networked AVRs without requiring the user to separately turn on the phone's DLNA server function, the company said.
The models starting with the $449 RX-V475 come with Made for iPod/iPhone/iPad front-panel USB to stream stored music in digital PCM form to the AVRs and charge the mobile devices. The opening-price $299 V375 offers this direct digital connection for iPods and iPhones. Once the Apple devices are connected, song titles appear on the receivers' onscreen displays.
The top two models, the $849 RX-V775WA and $649 RX-V675, feature Burr-Brown DACs, Yamaha Cinema DSP 3D processing, and intelligent assignable amplifiers that automatically direct output power from the surround back speaker terminals to either the front presence (front height) speakers or to Zone 2 speakers as needed so users don't have to change the speaker connections and setup menus to be changed.
Both AVRs also lift dialog to place dialog at the center of the viewing screen. Dialog level adjustment enables listeners to fine-tune the relative volume level of human voices in relation to sound effects and music sent through the center channel.
The top two models also offer YPAO Reflected Sound Control to remove unnatural sounds generated when speakers are placed in other non-optimal locations.
The top two also feature advanced multi-language onscreen displays that appear over HD and 3D video. The two also display album art from content transmitted from connected devices. And both feature Video Direct mode for gamers. The feature bypasses the models' video-processing chips to eliminate delay in controller response.
All three seven-channel receivers starting with the $549 RX-V575 can be used to create a 5.1-speaker surround system whose two front left-right channels are biamplified to boost the two speaker's power and performance.
The top end $849 RX-V775WA adds a Party Mode and Zone B dual HDMI outputs.
All five AVRs decode Dolby TrueHD, DTS-HD Master Audio, Dolby Digital Plus and DTS-HD High Resolution Audio. All also feature an Eco mode, a subwoofer level adjustment to let users increase bass output without changing the system's crossover point and preventing bass from getting muddy.
When pressed, four Scene mode buttons automatically power on the receiver and make system settings for specific entertainment options such as radio and home theater.
Each model also offers Cinema DSP 3D with 17 DSP programs to let users select the acoustics of different listening venues. Silent Cinema makes it possible to hear surround sound through ordinary headphones. Virtual Cinema DSP lets consumers enjoy virtual surround experiences without surround speakers. It can be used with just two front speakers.
Yamaha's proprietary Compressed Music Enhancer technology restores lost detail in compressed music files.
Latest posts by Joseph Palenchar
(see all)