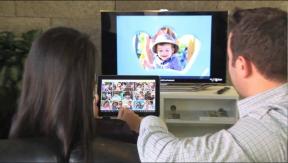 Buena Park, Calif. — Yamaha is bringing Mobile High-definition Link (MHL) connections to its home-theater receiver/speaker packages for the first time and extending discrete amplification to all models.
Most models in the lineup of receiver-based HTiBs, which ship in April, also get a Bluetooth adapter add-on for the first time. It connects to the HDMI ports of the lineup's networked HTiBs.
Of the five models, four SKUs starting at a suggested $649 will feature MHL 2.0 connectivity, enabling MHL-equipped mobile devices to send 1080p video and 7.1-channel audio over a wired connection to a home-theater system. The connection also charges the mobile device and enables control of the mobile device's content playback through the home-theater system's remote control. MHL 2.0 supports 3D content and faster smartphone charging.
Like last year, $649 remains the starting price point for DLNA 1.5 networking, Internet radio streaming and AirPlay. The $649 price point also remains the opening price for a variety of other features, including vTuner and Pandora Internet music streaming; Made For iPod/iPhone/iPad front-panel USB; and remote control from the company's AV Controller app for Android, Apple and Kindle devices.
Discrete-component amplifiers, a step up from IC amps, will be available in all models in the 2013 lineup, including the opening-price $449 model. The feature started at $479 in the 2012 line.
Like last year, the $449 price point is the starting price point for such features as Made For iPod/iPhone USB, 4K by 2K and 3D HDMI passthrough, HDMI audio return channel, and decoding of Dolby TrueHD, DTS-HD Master, Dolby Digital Plus, and DTS-HD High Resolution.
A $479 package is carrying over from 2012.
The five models start with the $449 YHT-399U, which features 5×100-watt amp (rated at 8 ohms at 1kHz with 0.9 percent THD with one channel driven), 100-watt 8-inch active subwoofer, AM/FM tuner, four HDMI 1.4a inputs with 3D and 4K passthrough, one HDMI 1.4a output with audio return channel, and four preset Scene buttons. When pressed, a Scene button turns on the receiver, switches on the appropriate input for a Blu-ray/DVD player, TV, CD or radio, and turns on a preselected DSP mode for each source. The buttons also turn on HDMI-CEC connected TVs and Blu-ray players.
The opening-price model also features compact two-way speakers, compressed music enhancer to improve the sound quality of compressed-music files, audio delay to adjust audio and video syncing, 192kHz/24-bit DACs on all channels, and Yamaha Parametric room Acoustic Optimizer (YPAO) room-calibration technology, which automatically analyzes room acoustics and calibrates system equalization to improve sound quality.
The opening-price model also features Silent Cinema, which delivers surround sound through headphones, and Virtual Cinema DSP, which delivers a multichannel surround experience through two speakers. Cinema DSP delivers 17 DSP soundfields.
The package also features adaptive dynamic range control to adjust dynamic range so that all sounds, from whispers to loud explosions, will be are heard at comfortable levels. The feature also prevents TV commercials from coming on too loud.
The system also comes with on-screen displays that overlay onto HD and 3D video signals to display system controls, setup prompts, and data from USB-connected devices such as Apple's mobile devices and USB drives. Eco mode reduces power consumption by 20 percent compared to when the system operates without it. The mode offers extremely low power consumption in standby mode.
The other four 5.1-channel packages at $649, $749, $799 and $849 share a step-up A/V receiver (AVR) packaged with different configurations of two-way speakers. The packages feature 5×115-watt AVR and 100-watt subwoofer.
Compared with the AVR in the opening-price package, the AVR in the four step-up packages add DLNA 1.5 to stream audio, video and pictures from DLNA-networked devices. They also add vTuner and Pandora Internet music streaming, AirPlay, Ethernet port, and connectivity to optional Wi-Fi and Bluetooth add-ons at a suggested $99 and $69, respectively.
A Wi-Fi add-on was available in 2012 for Yamaha's HTiBs. The new Bluetooth adapter connects to an AVR's HDMI port to get power and transfer audio in digital form to the AVR's DACs.
The four HTiBs also add five HDMI 1.4a inputs, HDMI standby passthrough, a virtual presence function to deliver front-height channels without installing front-height speakers, 192kHz/24-bit FLAC and WAV playback, Made for iPod/iPhone/iPad USB, charging of Apple's mobile devices even when the AVR is off, DC output to control optional accessories, and Cinema DSP 3D, whose 17 DSP soundfield modes include height information.
The $649 YHT-599U comes with bookshelf speakers, and the $749 YHT-699U adds floorstanding front left-right speakers. The $799 YHT-799 steps up to wood speakers, all of which are bookshelf-size trapezoid-shaped speakers. The $849 YHT-899U adds two floorstanding front left-right speakers.
Latest posts by Joseph Palenchar
(see all)