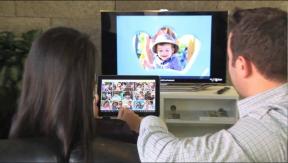 LAS VEGAS – In a frank, passionate and unscripted keynote address, Pandora co-founder/chief strategy officer Tim Westergren recounted the iffy start and meteoric rise of his wildly popular streaming music service at the CEA's annual Leaders in Technology Dinner (LIT) Wednesday night at the Wynn.
Westergren said the biggest accomplishment of his Internet radio, which programs personalized playlists based on each listener's musical tastes, is to expose consumers to "withering-on-the-vine" genres like bluegrass, zydeco and klezmer, and to allow struggling musicians to make a living by exposing their work to a wide audience.
Both Pandora and its founder had inauspicious beginnings. Westergren graduated college as an underemployed poly-science major and worked as a nanny for five years. He eventually pursued his passion for music by joining a rock band and later tried his hand at scoring films.
It was in that role, as he tried to determine the musical tastes of film directors, that the seed for Pandora was planted.
Inspired by the struggling career of singer Amy Mann and other underappreciated performers, he set out in 1999 to find a way to connect one song to another through math and raised $1.5 million in seed money from angel investors. He began by creating a taxonomy based on 450 musical attributes such as melody, harmony, form, content and voice, and working with 70 musicians analyzed and entered 10,000 songs into an Excel spreadsheet, while his co-founder developed an algorithm that would link like tunes.
For the very first trial he typed in "Beatles" ("Of course," he said. "Where else would you start?"), and after three or four minutes a list appeared, topped by the Bee-Gees. "We thought 'Oh sh*t, this isn't going to work,'" he said, but the early-period tune that the program picked proved to be "a dead-ringer" for The Beatles and a perfect counter-intuitive match.
But as the group continued to build out its song roster and search for a way to apply the technology, the money ran out and employees worked two and a half years for free. By 2004 Westergren had tapped out 11 credit cards and was $250,000 in debt, and then found $9 million in financing which gave the company a second life.
After another six months of brainstorming, a new chief technology officer steered them toward online streaming, and after building a front end the company trialed its first version of Pandora in 2005. The demo went viral, reaching 5,000 users, and after launching with first a subscription service and then a free model, "It took off like a rocket," he said, with its user base soon growing by the tens of thousands a day.
The growth rate doubled when the Pandora app appeared on opening day of the iTunes Store, and today 70 million listeners access the service and its 100,000 artists every month, Westergren said.
Another hurdle came in 2007 when Congress pushed through a measure that tripled the royalties paid to publishers and performers, and which would have crippled the company. But leveraging the service's database and ZIP codes, Westergren sent an e-mail appeal to 7 million customers which included their congressmen's contact information. Nearly 2 million complained to their representatives in Washington and the royalty rate was relaxed.
"More people called in about that than the Iraq War," he said. "That's fuc*d up, but it worked for us."
Today, Pandora is branching out overseas, Westergren told the Official Daily of CES, and is developing a service for touring bands that identifies their strongest markets and alerts customers when they are coming to town.
"Pandora is a win for entrepreneurship, for consumers and for content," he said. "It's driving new innovation and job creation, and is rewarding artists by creating new streams of revenue."
Westergren also acknowledged the role that the CE industry has played in his success. "Technology is driving it, and CES is the hub for all the devices that make Pandora ubiquitous. Thanks for building all these great CE products that we can take advantage of."
Latest posts by Alan Wolf
(see all)