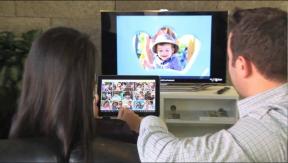 Irvine, Calif. — Notebooks, laptops and Ultrabooks may be getting a little smaller, following Western Digital's disclosure Monday at Computex Taipei 2013 that it's starting delivery on "the world's thinnest 1TB hard drive."
The 2.5-inch WD Blue 7mm hard drive is targeted at OEMs, channel integrators and general consumers, and will provide "a unique storage solution for thin and light systems, slimmer notebooks, as well as compatibility with the industry-standard 9.5mm drive slots of mainstream notebooks," the company said.
The WD Blue hard drive family, with a 7mm height, features capacities from 320GB to 1TB. The 1TB hard drive will have a $139 suggested retail.
"Users with large portfolios of content no longer need an Ultrabook or upgrading to a thin and light notebook," said Matt Rutledge, WD client storage VP and general manager. "This most compact 1TB hard drive to date offers manufacturers of systems an up-sell path for their customers who will now be able to choose systems offering both sleek design and high capacity."
"Intel is introducing its fourth-generation Intel Core processor family (code-named Haswell) to deliver faster and more efficient performance to both desktop and notebook platforms, with significant gains benefitting portable systems," said Roger Bradford, Intel capabilities marketing manager. "The release of the WD Blue 7 mm hard drives offers a new level of storage capacity that further enriches the computing experience for users of Ultrabooks, all-in-ones and other thin and light PCs."
Latest posts by Greg Tarr
(see all)