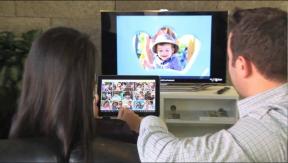 Irvine, Calif. — WD, a Western Digital company, has introduced WD Purple, a 3.5-inch, high-capacity hard-drive line for video-surveillance applications.
WD Purple hard drives were specially designed for new and existing home and small-business security environments with up to eight hard drives and up to 32 high-definition video cameras.
The drives are available in capacities from 1TB to 4TB.
"By expanding our Power of Choice product portfolio with WD Purple, we make it simple for our VARs, integrators and consumers to select the right drive engineered for their application and validated with our industry-leading surveillance partners," stated Matt Rutledge, WD's storage technology group senior VP. "WD optimized the WD Purple line of hard drives for surveillance applications to improve high-definition video playback, and operate in 24-by-7 workloads of surveillance environments."
"Different from ordinary desktop hard drives designed for eight hours of daily operation, WD Purple drives have the built-in reliability to operate in Hikvision home and small-business system installations so critical video footage is available when it is needed most," said Ying Yang, Hikvision testing director. "An additional benefit of WD Purple drives is they support up to eight drives and 32 HD cameras so there is the flexibility to expand for future system coverage."
The WD Purple drives are optimized for always-on digital PVR, DVR and NVR recording applications, with low power consumption and advanced performance features commonly used in enterprise-level storage, the company said.
Exclusive WD technologies found in the line include AllFrame, which, when combined with ATA streaming support, helps reduce video footage loss with a proprietary cache policy management technology to improve data flow and playback. Firmware upgrades are included to protect against video pixilation and interruptions within a surveillance system
The exclusive Advanced Format Technology enables increased areal densities, adopted by WD and other drive manufacturers to continue growing hard drive capacities.
Without a current industry standard, WD said it worked closely with surveillance partners to develop a proprietary benchmark to define and demonstrate performance in surveillance systems.
WD said a special Compatibility Selector is available to assist customers with surveillance drive selection at WD.com/en/products/products.aspx?id=1210.
WD Purple drives are available now through select distributors and resellers. The 3.5-inch 1TB drive, model WD10PURX, carries an $89.99 suggested retail; the 2TB drive, model WD20PURX, is $119; the 3TB drive, model WD30PURX, is $159; and the 4TB drive, model WD40PURX, is $199.
Latest posts by Greg Tarr
(see all)