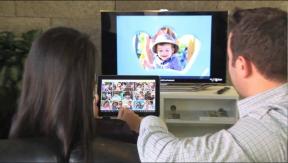 San Bruno, Calif. – Now that it's established itself as the world's largest brick-and-mortar retailer, Walmart has set its sights on dominating cyber shopping as well.
The company is investing heavily in technology and fulfillment capabilities to deliver what Walmart's global e-commerce president/CEO Neil Ashe described to analysts at a Barclays retail conference this week as "a personalized shopping experience that exceeds your expectations each time."
Among the fruits of that investment is an updated mobile app for iPhone that provides a floor plan and product search function when set to "in-store" mode within a Walmart location. The app also allows customers to checkout their own items by scanning them with their phones as they shop, which produces a running total, and then scanning a QR code at the register.
Ashe said about 200 U.S. stores have been outfitted for the app, with more to follow as his team improves the process.
Also updated is the homepage of Walmart.com, which, taking a cue from Amazon.com, has been personalized to highlight a product category that was viewed on past visits. The site also has a faster, more precise search function, and employs dynamic pricing to match online competitors' price points.
"I can tell you, to the product, to the day, to the category, to the minute, what our price-gap is with any of our largest competitors online, and we use that information to drive our pricing strategy," Ashe said.
Walmart is also removing channel rivalry by providing revenue credit to managers and associates for e-commerce sales within their geographic trading area. The move has already had "a big impact," he noted.
Ashe said the retailer is leveraging its 4,000 U.S. stores as "forward-deployed fulfillment centers" to get online orders into shoppers' hand faster and more efficiently, and will expand its test of in-store delivery lockers this year.
The company is also leveraging its massive collection of commerce data, and is harvesting information from social media to build an "audacious" global technology platform.
Said Ashe: "We want to know what every product in the world is, we want to know who every person in the world is, and we want to have the ability to connect them together in a transaction."
Latest posts by Alan Wolf
(see all)