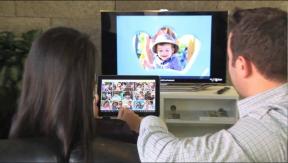 Bentonville, Ark. – Wal-Mart Stores said cost reductions and productivity improvements contributed to a 9 percent increase in its fiscal third-quarter profits.
Earnings topped $3.6 billion for the three months ended Oct. 31, while net sales increased 3.4 percent to $113.2 billion, including a $1.7 billion negative impact from unfavorable currency exchange rates.
Domestically, Walmart U.S. said solid sales performance and disciplined expense management contributed to a 4.5 percent increase in operating income, to $4.8 billion, which was a "key driver" of the company's overall profit. Net sales rose 3.6 percent to $66.1 billion and comp sales increased 1.5 percent, aided by back-to-school activities early in the quarter and the mid-September launch of layaway.
Comp sales for the chain's entertainment category, which includes CE and pre-recorded media, fell by the low single digits due to "continued strong industry deflation," Walmart U.S. president/CEO Bill Simon said in a pre-recorded phone call. In contrast, wireless comps increased by the double digits due to a broader assortment, while 50-inch TVs, gaming consoles and tablets were among the quarter's top items purchased on layaway.
CE saw greater growth online, where the retailer improved its checkout capabilities, broadened its assortment, and increased conversions by 10 percent to 15 percent thanks to the launch of a new in-house search engine called Polaris, Simon said.
Walmart.com also launched a same-day delivery pilot in four cities in October.
Looking ahead to Black Friday, Simon cited a planned one-hour CE sale on Thanksgiving evening, for which "we're far deeper in the quantities of those items than we've ever been before." He added that November sales have started ahead of plan, and that the chain expects "strong performance" through Thanksgiving and Black Friday.
At Sam's Club, operating income increased 12.7 percent, while net sales rose 4.7 percent to $13.9 billion and comp sales edged up 2.7 percent excluding sales of fuel.
Comp sales in technology and entertainment were "slightly positive" for the quarter despite continued deflation, Sam's Club president/CEO Rosalind Brewer said on the call.
Specifically, wireless comps performed well, rising by the double digits on the strength of the Samsung Galaxy III and the Apple iPhone 5 launches, while TV and home theater comps were up by the low single-digits, driven by higher unit volume and improved availability of large-screen models. TV average selling prices (ASPs) continue to decrease, she said, and Sam's Club's TV inventory position for the holidays is "very good."
In contrast, video games, music and movies "continue to experience pressure in the current environment," Brewer noted.
Also on the call, Wal-Mart Stores president/CEO Mike Duke thanked East Coast staffers who "jumped into action" when Superstorm Sandy hit last month. About 75 percent of the 300 impacted Walmart stores were reopened within 24 hours, as were 37 of the 41 impacted Sam's Clubs. Walmart trucks also delivered water, food, blankets and other needed items, and the company has pledged $2 million to help with relief efforts.
Walmart U.S.'s own storm-related expenses totaled $35 million in inventory damage, clean-up and other miscellaneous costs.
Latest posts by Alan Wolf
(see all)