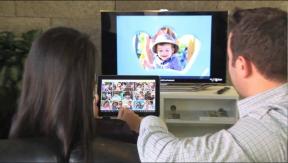 Van Nuys, Calif. – Volutone, a member of the PowerHouse Alliance, has cut the ribbon at the new store, here, with more than 300 dealers and 125 vendors in attendance.
The distributor officially kicked off the Volutone "self-shop supercenter" with a party featuring In-N-Out Burger catering truck and a live band in the training and events room. Volutone also raffled off an LG 60-inch TV, which was won by Raphael Perlas of Custom Satellite Services.
Trevor Hansen of Volutone said in a statement, "I am so thrilled to show off our new Van Nuys Store. Our dealers deserve nothing but the best shopping experience and that's what we have built for them"
The new facility is part of Volutone's strategy to redefine wholesale A/V, security and whole-house automation as a distributor with the self-shop store and the launch of a new website earlier this year.
Volutone, a 110 year old company, operates six facilities in Southern California and Nevada, and carries more than 65 leading manufacturers' lines.