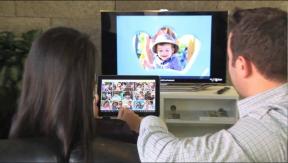 Irvine, Calif. — Vizio said it has started rolling out its 2013 M-series Razor LED smart TVs, featuring ultra-thin bezel designs.
The new M series shipping to Vizio retail partners across the country now including the following models and screen sizes: the 32-inch M321li32 ($400 suggested retail), the 40-inch M401i ($530), the 47-inch M471i ($730), the 50-inch M501d ($800), the 55-inch M551d ($1,200), the 60-inch M601d ($1,600), the 65-inch M651d ($2,000), the 70-inch M701d ($2,500) and the 80-inch M801d ($4,000).
The sets combine enhanced picture quality and a new updated Vizio Internet Apps Plus smart-TV system.
The base and neck feature interior metal construction with a metallic finish to complement the nearly borderless ultra-thin-bezel design styling.
"The M-series family offers an elegant blend of thoughtful design detailing and premium materials, presenting consumers with an HDTV they will be proud to showcase in their homes," said Scott McManigal, Vizio industrial design VP. "The ultra-thin bezel reduces peripheral distractions and enhances the rich picture quality allowing for a superior edge-to-edge viewing experience."
Vizio's M-series models also feature Smart Dimming technology to deliver deeper blacks and brighter whites, FullHD 1080p/240Hz resolution/refresh rate, and Smooth Motion backlight scanning.
The models with screen sizes measuring 50 inches and larger include passive glasses-based 3D capability.
The improved Vizio Internet Apps Plus technology was said to have been redesigned for a more intuitive experience with faster setup and connection using the built-in Wi-Fi connectivity.
The system includes a host of key apps including: Netflix, Amazon Instant Video, M-Go, Facebook, HuluPlus, Pandora, Vudu and YouTube.
A backlit smart remote is included, and starting in the summer all M-series model remotes will be enabled with Wi-Fi and Universal remote features for easier control of all home entertainment devices.
"The new Vizio M-series televisions represent a significant step forward in terms of design, picture quality and connectivity," said Matt McRae, Vizio chief technology officer. "Our smart-TV platform has been upgraded with new apps, new features and new experiences such as dual-screen control from smartphones and tablets. We also focused on the basics that matter to every consumer such as a newly designed remote control and class leading picture quality."
Key Vizio retail partners carrying the M-series lineup include Best Buy, Amazon and Walmart.
Latest posts by Greg Tarr
(see all)