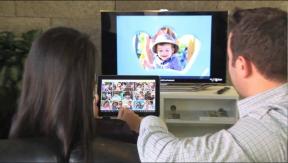 Irvine, Calif. — Vizio launched on Tuesday a "TDs for TVs" promotional campaign using Buffalo Bills wide receiver Stevie Johnson as the spokesman for a charity effort supporting the Boys & Girls Clubs of America.
Vizio said its "TDs for TVs" effort provides fans the opportunity to get involved with Johnson's on-the-field play to support the charitable organization.
Starting with Buffalo's game against the Miami Dolphins on March 20, and running through the end of the 2013 to 2014 season, each time Johnson scores a touchdown, Vizio will award a new Vizio 65-inch M-series Razor LED smart TV to a participating fan and the local Boys & Girls Club in the city he scores a touchdown.
Johnson, a seventh round draft pick in the 2008 NFL draft, rose to a starting role for the Bills in 2010. He won the 2010 Vizio Top Value Performer award as the player whose on-field performance most exceeded the value of his contract.
"I'm excited to kick off another great 'TDs for TVs' campaign with Vizio and am looking forward to giving back to some lucky fans and deserving kids this season," said Johnson. "Not only will Vizio fans who follow my success on the field have a chance to be rewarded, but I'll also get to support an organization that taught me to strive for success off the field. With the support of Vizio, every time I score a touchdown, I'll be giving a Vizio 65-inch M-series HDTV to the local Boys & Girls Club in that city."
Vizio said Boys & Girls Clubs is dedicated to providing youth ages 6 to 18 with a safe place to spend time during non-school hours and the summer as an alternative to the streets or being home alone.
With nearly 4,000 clubs across America, as well as on U.S. military installations worldwide, children are given the opportunity to learn new skills, gain confidence and receive recognition for personal accomplishments, the organization said.
"For the second year, we're grateful to Stevie for thinking of Boys & Girls Clubs of America in this generous opportunity," said Frank Sanchez, sports, entertainment and alumni development national VP. "Local Boys & Girls Clubs from around the country benefit, with state-of-the-art technology to help both educate and entertain the youth they serve."
To enter, fans can click on the tab on the "TDs for TVs" tab on Vizio's Facebook page or enter through Vizio Fandemonium – an online social community where fans can rally together, share and express their enthusiasm for sports, music, movies, games and more.
Vizio Fandemonium allows fans of all types of entertainment to demonstrate their devotion, by earning points redeemable for prizes.
Fans of Johnson can earn points by signing up for "TDs for TVs" through Vizio Fandemonium and should stay tuned for unique experiences and prizes throughout the year featuring the Buffalo wide receiver.
Latest posts by Greg Tarr
(see all)