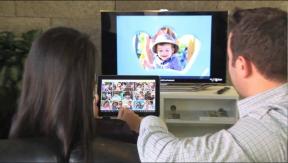 Irvine, Calif. — Vizio revealed Monday that it is rolling out its 2012/2013 M-series and E-series lineup of big-screen LED edge-lit FullHD 1080p LCD TVs, ranging in size from 55 to 70 inches.
The company is now offering online and through retail partners three M-series models, including a 55-inch 2D model for a $949 suggested retail, and two 65-inch models at $1,699 for 3D capability and $1,499 for 2D 1080p only.
New E-series Razor LED models, which feature edge-lit LED lighting, thin-bezel designs and 2D-only FullHD 1080p resolution, are offered in a 60-inch version at a $999 suggested retail and 70-inch version at $1,999.
All models include built-in Wi-Fi connectivity and incorporate Vizio's smart-TV system, which it calls Yahoo Widgets powered Vizio Internet Apps, featuring Netflix, Vudu, Hulu, Amazon, among others, streaming services.
Retail stores and websites carrying the new sets include Costco Wholesale, Sam's Club, Walmart, Amazon.com, Target, BJ's Wholesale, eBay.com, Vizio.com and others.
Vizio also recently started rolling out its 58-inch CinemaWide 21:9 ultra-widescreen LCD TV at select brick-and-mortar retail outlets for a $1,999 suggested retail.
Latest posts by Greg Tarr
(see all)