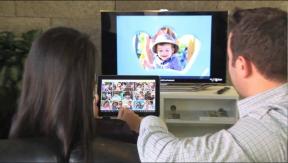 Walnut, Calif. – ViewSonic introduced Monday a laser- LED hybrid- based Full HD DLP projector for home entertainment, educational and commercial applications.
Model Pro9000 is shipping now at a $2,999 estimated selling price.
ViewSonic said the projector features an LED hybrid technology where LED light and lasers combine to create a single light source, resulting in "vibrant and rich display color that far exceeds that of a normal mercury light projector."
The light source is has a 20,000-hour life expectancy, omitting the need for frequent lamp and filter replacements.
The Pro9000 delivers Full HD 1080p (1920-by-1080p) native resolution using TI's DLP DarkChip technology. Included are dual HDMI ports, component, composite and S-video inputs, RS232 control capabilities and integrated speakers.
Color performance is said to offer a 50 percent improvement over similar lamp-based models with 1,600 lumens of brightness and a 100,000:1 ultra high contrast ratio.
An instant on/off feature prevents the risk of damage from overheating, while the lamp-free, filter-free design requires virtually zero maintenance.
"As opposed to conventional lamp-based projection, the Pro9000 employs a laser LED hybrid light engine technology. By eliminating the color wheel, our Pro9000 projector produces astonishing, razor-sharp images, while dramatically decreasing ghost images and rainbow effects," said Roger Chien, ViewSonic product manager. "We are proud to have been the first manufacturer to announce a Full HD hybrid projector of this kind, and are thrilled to announce its availability to cinema enthusiasts, audio-video and commercial installer pros."
The Pro9000 comes standard with a three-year limited parts, labor and light source warranty, and 1-year of Express Exchange Service.