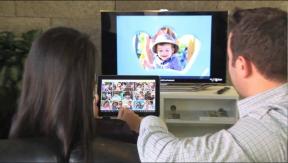 Santa Monica, Calif. — Los Angeles-area CE retail chain Video & Audio Center was the formal retail launch pad Thursday for LG Electronics' newest Ultra High-Definition 4K LED LCD TVs in the 55- and 65-inch screen sizes.
The new models, which will be released to other dealers nationally in two weeks, mark the first 4K Nano Full Array backlit LED LCD TVs in the market, and were being offered at the event at full suggested retails of $5,999 and $7,999, respectively.
In the first three hours of the weekend-long launch promotion, the West Coast retailer sold five models — four 65-inch models and one 55-inch.
In fact, since launching LG's first Ultra HD LCD TV — an 84-inch model last November — Video & Audio Center has become a sort of Mecca for 4K Ultra HD LCD displays.
The chain, which so far this year has been used by various manufacturers as the national launch site of seven different products, including multiple Ultra HD sets, houses one of the industry's largest assortments of Ultra HD products.
The three-store chain includes 84-inch Ultra HD sets from Sony and LG, the 85-inch S9 Ultra HD LCD model from Samsung, and new 65- and 55-inch Ultra HD LCD TVs from both Sony and LG.
Joseph Akhtarzad, Just One Touch/Video & Audio Center president, said that since launching the first Ultra HD model last year, TV revenue for the chain is up close to 25 percent, despite unit sales coming in slightly under the year prior.
Tom Campbell, Video & Audio Center corporate director and spokesman, said the smaller screen sizes now coming in from both LG and Sony (and in August, Samsung), should compound that revenue growth over the balance of the year.
Campbell said repeatedly that Ultra HD looks to be the winning solution the industry has desperately needed. The technology is accelerating while some other technologies sputter, he said, because U.S. consumers are voting with their dollars for the best picture quality they can buy, and are no longer motivated strictly by bargain prices.
In fact, Akhtarzad told TWICE that Video & Audio Center has not had to run many price promotions on any of the new Ultra HD TVs sold this year.
"Once customers come into the store and see the picture quality difference for themselves, they buy on impulse," Campbell said.
On hand from LG for the event was John Taylor, public affairs and communications VP, who pointed out that new models, which are in the company's LA9700 series, offer improvements even over the 84-inch flagship model introduced last year.
By incorporating Nano Full Array backlighting and dimming technology, the sets offer improved contrast and black-level performance, and richer color saturation, while LG's In-Plain Switching (IPS) technology used in all of its panels produce some of the widest viewing angles in the industry for LCD technology. The set also incorporates support for new H.265 video-compression technology, and includes a USB 3.0 port capable of supporting 4K Ultra HD video material.
LG's Taylor said his company has developed special demonstration materials designed to show the advantages of both native 4K Ultra HD video on the new sets, as well as the advanced UHD up-scaling technology that takes SD, HD and FullHD material and processes it to near-4K (3,840 by 2,160) quality levels.
The new sets support LG's passive-glasses-based Cinema 3D system and its smart-TV system. Taylor also pointed out that audio is supported with an onboard 4.1-channel, 50-watt sound system that includes the unique LG "sliding speaker," a motorized soundbar that magically appears below the screen.
Similarly, the sets include a built-in video-conferencing camera that pops up on top of the screen, and can be retracted again when not in use.
From left: Video & Audio Center co-president Joseph Akhtarzad, LG's John Taylor, Video & Audio Center co-president Mayer Akhtarzad, and corporate director Tom Campbell send off LG's LA9700 UHD TVs.
Video & Audio Center corporate director Tom Campbell, LG's John Taylor, and Video & Audio Center president Joseph Akhtarzad demonstrate one of LG's new LA9700 Ultra HD TVs to some young enthusiasts.
Latest posts by Greg Tarr
(see all)