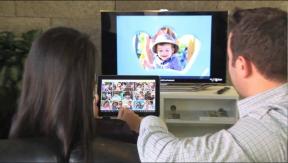 Santa Monica, Calif. — Video & Audio Center introduced the Samsung LED 9000 75-inch TV at an event Thursday, Aug. 9, at its store, here.
The invitation-only event, which debuted the large-screen TV to the Southern California market, had up to 125 customers in attendance and "exceeded all expectations," according to Tom Campbell, corporate director of the chain, with 11 sets being sold at the reception.
The keys to the major increases in large-screen TV sales with such major brands are not only smart-TV features, but "non-bezels" as Campbell put it — bezels that are well less than an inch.
"Cosmetics are playing a huge part of the sales success of this set," Campbell said. He added that Video & Audio Center is actively marketing these and other features to women, which has increased sales.
Joseph Akhtarzad, co-owner of Video & Audio Center, commented on the year for the chain, saying, "We've had a very good year so far. Video & Audio Center sales have increased nearly 300 percent with most manufacturers. This is a direct result of increased consumer demand for larger and smarter sets that not only allow families to watch their favorite shows but also interact with friends and family via the web and Skype on a larger, crystal-clear screen in the comfort of their den or living room."
He added, "We see this trend continuing throughout this year and beyond. Once you purchase a large, interactive set, you won't want to go back."
Due to that performance, the retailer will have a job fair by the end of August to hire more than 25 to 30 sales, technical and installation employee
Latest posts by Steve Smith
(see all)