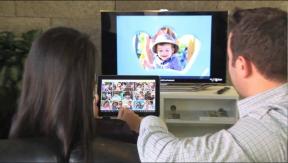 New York – In less than one year Ultra HD TV has gone from just being a highly anticipated and discussed technology to a viable and much desired product.
Brian Markwalter, senior VP of research and standards for the Consumer Electronics Association (CEA), said this at the TWICE/CEA Ultra HD Conference being held here today. Markwalter pointed out that if one looks back to the 2013 International CES that Ultra HD TV was heavily represented on the show floor, but there were not a lot of firm plans to bring product to market. However, just 10 months later there are almost two dozen Ultra HD TVs on the market and consumer recognition of the new technology is growing.
Markwalter is forecasting that 57,000 Ultra HD TVs will ship this year with adoption quickly ramping up to 450,000 in 2014 and hitting 4 million by 2017.
Consumers have also quickly picked up on Ultra HD TV. A CEA study found that 55 percent of those surveyed recognized and understood the term Ultra HD, while 64 percent did the same with Ultra High definition. Markwalter said these figures are very good considering the technology is relatively new.
Interestingly, 73 percent of consumer asked had never heard of the phrase 4K.
In order to boost consumer interest and education even further, Jeff Joseph, CEA's senior vice president of communications and strategic relationships, said the CEA has partnered with the Digital Entertainment Group (DEG). The organizations will work together to push vendors, retailers, content providers to get the Ultra HD message out to consumers.
Other efforts will include having CEA media spokesperson Jim Barry continueing his nationwide tour that has him explaining Ultra HD to local media outlets, the CEA will create an online consumer guide to Ultra HD and the CEA will host a showcase at an Engadget event in San Francisco on Dec. 5.
Please see TWICE.com and the Nov. 18 issue for more Ultra HD Conference coverage.
Latest posts by Doug Olenick
(see all)