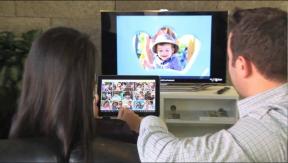 LAS VEGAS — The participants in the annual TWICE Retail Roundtable looked past a tepid 2012 holiday season toward an uneven 2013, with one or two potential bright spots.
The roundtable, held Monday and moderated by TWICE senior editor Alan Wolf, had execs from the nation's top retailers and distributors give their take on 2012 and what will lead the industry this year.
The general consensus held that Black Friday and the first week of the holiday selling season saw increased sales and traffic, but that was followed by static, at best, sales for the remainder of the period.
Stephen Baker, industry analysis VP for The NPD Group, pointed to several factors to explain what took place. NPD data indicated that Black Friday sales were not tremendous, but Cyber Monday helped pick up the pace. It was, however, not enough to overcome falling sales of popular items like GPS, MP3 players and digital cameras. And, for the first time, TV dollar and unit sales growth were both down this holiday.
Windows 8 also did not supply the expected sales bump, and sub-$500 laptops were hurt by tablet sales, Baker said.
Daniel Pidgeon, CEO of Starpower, blamed this condition on consumer fatigue.
"Consumers are tired to hear CE promos by the time we get to December. They want to talk about other products," he said.
Warren Chaiken, president and COO of Almo, said his members were up 15 percent from last year, and he attributed the growth to their ability to change with the times.
"Dealers that did well were those who opened on Black Friday and advertised. They had tablets and the hot brands, and it worked for them," he said, adding that Small Business Saturday also gave a boost.
All the participants were excited over the potential 4K TV holds for the industry.
HTSA's managing director Bob Hana said 4K is very demonstrable to consumers and is generating excitement.
Mark Shaw, Nebraska Furniture Mart, divisional merchandise manager for electronics, agreed.
"We carry the Samsung and Sony models that have crowds looking at them every weekend. However, we do worry about how fast it will become a commodity product," he said.
Joe Hartsig, Sam's Club general merchandising manager and VP of the technology, entertainment and office division, said he is looking forward to having 4K get to the point where he can market it to the mainstream consumer. He also expressed hope that 4K vendors would learn the lesson from 3DTV's launch and handle 4K properly.
Pidgeon noted that 4K should receive a better reception than 3D because while not everyone was interested in that technology, all consumers want a better picture on their TV.
Looking toward 2013, the panelists expect tough economic conditions and a lot of uncertainty. Any successes to be had will be made through a series of small hits and not home runs.
Latest posts by Doug Olenick
(see all)