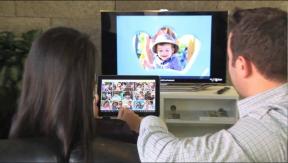 Ontario, Calif. — Trident Case has expanded its heavy-duty Cyclops smartphone case series to add a tablet model and will also debut a new line of cases for Samsung Galaxy phones.
The Cyclops case is constructed with polycarbonate and thermoplastic elastomer (TPE) to provide dual-layer protection and meets military standards for rain, dust, sand, vibration and drop protection. It features a built-in, scratch-resistant screen protector and TPE plugs to cover power ports and audio jacks. Bio-enhanced plastic construction makes the case degradable, compostable and recyclable.
Cyclops cases are compatible with the iPad Mini 1 and 2 and offered in seven color combinations, including pink, blue, green, red and black. The tablet series also supports custom prints, allowing consumers to add designs and branding to cases. They retail for $49.95 and are available now at TridentCase.com.
Trident's new Apollo series is light-duty line of cases with a bio-enhanced polycarbonate rim and back shell and a self-applicable screen protector. The cases' polyurethane leather folio covers include two card slots and a soft microfiber lining
The Apollo Folio cases will debut for the Galaxy S4 and S5 and Galaxy Note 3 in five colors combinations: navy folio/white shell, black folio and shell, purple folio/white shell, orange folio/white shell, and red folio and shell. All three models will be available in May with suggested retails of $34.95.
Latest posts by John Laposky
(see all)