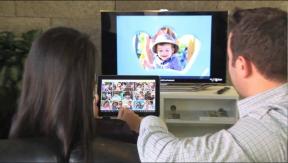 Irvine, Calif. — Toshiba America Information Systems' (TAIS) digital products division introduced Tuesday its 2014 lineup of Satellite clamshell-style laptops highlighted by the company's first model to feature a 4K Ultra HD screen.
Most of the four-series clamshell PC lineup was offered in time for the back-to-school period, but the highlighted Satellite P55t 4K Ultra HD laptop will target an audience of mostly graphics professionals, photographers, editors and serious gamers, among others, the company said.
The 4K model is also the first to earn Technicolor Color Certification.
This year's Toshiba Satellite clamshell line includes: the entry C series, step-up L and S series, and the aforementioned flagship 4K Ultra HD P series.
Because the clamshell-style laptop market has yet to peak, Toshiba said it continues to offer customers a broad range of Satellite models ranging from sub-$500 up to sub-$1,500 price points.
The various series are built around a highly configurable purpose-built chassis that enables custom flexibility.
Design goals for the year across the model series were to make the laptops thinner while improving built-in audio sound and keyboard quality.
The flagship Satellite P55t was "designed to take on the most intensive computing demands and display unprecedented imagery," the company said.
"We're very realistic about who's buying this [4K Ultra HD] product," said Carrie Cowan, TAIS digital products division product manager. "We see a definite place for 4K in the laptop market simply because there is a growing number of photo enthusiasts out there and video content creators who can really benefit from this screen resolution. It's a different play than it is on the TV side."
The new Satellite P55t 4K Ultra HD will be available on April 22 from toshiba.com/us for a $1,499 suggested retail.
It features a 15.6-inch diagonal Ultra HD (3,840 by 2,160, 221 ppi) "TruBrite" touchscreen display with four times the resolution of a FullHD 1080p screen.
The display includes In-Plane Switching (IPS) technology for wide viewing angles, installed Chroma Tune calibration software, and Technicolor UHD Certification for natural color expression and accurate color gamut.
The Satellite P55t includes a full version of Adobe Photoshop Lightroom 5 software, and is powered by a fourth-generation Intel Core i7 quad-core processor, up to 16GB of 1,600MHz DDR3L memory, and AMD Radeon R9 M265X enthusiast-class graphics with 2GB GDRR5 video memory.
A 1TB hard drive is included along with a 3D impact sensor, four USB 3.0 ports, a UHS-II SD card slot, 802.11ac Wi-Fi connectivity for optimal Ultra HD streaming, and a built-in rewritable Blu-ray Disc drive.
Sound is handled by Harman Kardon speakers and DTS software.
Other features include Toshiba's Sleep & Music feature that allows using the laptop's speakers even with the PC turned off.
Design characteristics include an edge-to-edge LCD glass look, a frameless LED-backlit keyboard, large clickpad and a brushed-aluminum finish.
For the rest of the clamshell PC lineup, the entry Satellite C series includes two screen size choices of 15.6 inches or 17.3 inches, both with 1,366 by 768 pixel resolution. Body thinness was reduced about 26 percent to just under an inch.
The keyboard was tightened up to make the keys "less smooshy," based on reviewer suggestions.
Toshiba is enhancing audio with branded third-party partners across the line, starting with Skullcandy in the value C series. Toshiba said the audio headphones, speakers and accessories company worked with Toshiba engineering to fine tune the built-in audio characteristics of the laptops – an aspect designated with Skullcandy sub-branding.
Non-standard options in the entry series include touchscreens and DVD drives.
Processors used in the C series include Celeron, Pentium Core i3, and AMD A4-A6 classes.
Entry prices vary by selected components, starting at a $329 suggested retail.
The Satellite L series is Toshiba's "mainstream" laptop platform that was designed this year to create strong visual cues on store shelves. The look and feel of the line is said to clearly denote the step-up value from other models on display.
It offers a 13 percent thinner body, textured "champagne" colored lid and a "frameless keyboard" design style with a subtle contoured key shape, called "TruType." The keyboard is said to produce less flex and bounce when typing.
Screen sizes include 15.6 inches and 17.3 inches, both with 1,366 by 768 resolution.
Branded Skullcandy audio is included for richer sound.
The series chassis was designed to meet a $400 to $700 price range. Processor options include Intel Core i3, i5, and AMD A4, A6 and A8.
The Satellite S series is Toshiba's "performance-driven" laptop line, offering a choice of Intel Core i5 and i7, and AMD A8 and A10 processors, with prices starting at less than $698 suggested retail.
Design changes include a "Skyline" design style with an aluminum body, built-in branded Harman Kardon speakers and sound system design consultation with Harman "scientists."
Other features include backlit TruType keyboard, and 15.6- or 17.3-inch LCD screen options of touchscreen and 1,366 by 768, FullHD 1,920 by 1080 resolution or 1,600 by 900 TruBrite resolution.
Toshiba will also offer a derivative Satellite E-series line exclusively through Best Buy stores and Best Buy.com starting on June 22, with pricing starting at less than $649 suggested retail.
Latest posts by Greg Tarr
(see all)