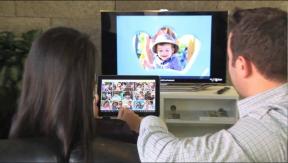 Irvine, Calif. — Toshiba today refreshed several of its laptop lines, adding faster processors and more storage capacity.
The updates, all of which will be available as of Sept. 29, cross Toshiba's Qosmio, Satellite P, S, L and C laptop series.
The high-end Qosmio X, $1,399, is now powered by a fourth-generation Intel Core i7 processor. It uses Nvidia's GTX 770M discrete graphics; has a 17.3-inch FullHD display, 1TB hybrid hard drive or a 1.5TB standard HDD option; and is bundled with Photoshop Elements 11.
The P series, which contains Toshiba thin and light models, feature Intel Core i5 and i7 processors, either integrated or Nvidia discrete graphics, a 15.6-inch touchscreen and a backlit keyboard. Prices start at $799.
The S series is available with the same Intel processors as the P models, but customers also can choose an AMD A10 APU. It can have up to 1TB of storage and 16GB of DDR3 memory; the starting price is $599. The 17.3-inch display is available with a touchscreen option.
The 15.6-inch touchscreen L series, $529, is equipped with the same processors as the S, and it has an improved USB 3.0 port that can charge a device even when the laptop is shut down. Up to 1TB of storage is available, along with 8GB of DDR3 memory.
The entry-level C series, starting at $359, can be configured with Intel's fourth-generation or Pentium 2020M processors or the AMD A4 or A6 E series chips. The C models are offered in 15.6- or 17.3-inch screen sizes, and come with a 750GB hard drive and 8GB of DDR3 memory. The displays are available as touchscreens.