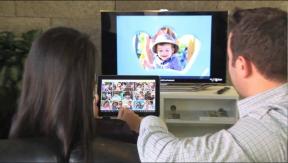 Montebello, Calif. – Theta Digital shipped its first universal Blu-ray disc transport with 3D Blu-ray capability.
The $3,995-suggested Compli Blu 3D joins the $2,995 Compli Blu, a universal Blu-ray transport without 3D playback.
Both models are designed to connect to outboard audio DACs or to preamp/processors with embedded DACs. "It's simply impossible to build a DAC into a disc player that can compare with the finest outboard units," claimed Theta chief engineer Dave Reich.
The Compli Blu 3D plays the following disc types: DVD-Audio, SACD, 2D and 3D Blu-ray discs, DVDs and CDs, AVCHD, HDCD-encoded CDs, Kodak Picture CDs, CD-R/RW, DVD±R/RW, DVD±R DL, BD-R/RE and BD-R/RE DL. The transport decodes up to 7.1-channel high-resolution PCM, up to 5.1-channel DSD (SACD), and bitstream ( and LPCM conversions of) Dolby Digital, Dolby Digital Plus, Dolby TrueHD, DTS, DTS-HD High Resolution Audio and DTS-HD Master Audio.
The device also features Marvell's QDEO video processing to ensure an optimum picture "regardless of encoding, disc cadence or de-interlacing," the company said. It also up-scales DVD and streaming-video to near-HD, and it features 2GB of memory.
An included Wi-Fi 802.11b/g/n adapter and built-in RJ45 Ethernet port enable streaming of Netflix, Vudu, Pandora and others services. The transport is also DLNA-compliant to stream audio and video from a PC or laptop.
Audio outputs include optical, coaxial, and HDMI. Video outputs include composite, component and HDMI.
The transport can be controlled from a supplied IR remote or via RS-232-connected home-control system. Theta said its latest Crestron control module, as well as an iPad control app, will be available for download at Thetadigital.com early in 2013.
The Compli Blu 3D features 16-gauge steel-chassis, custom extruded 0.5-inch-thick aluminum front panel, alloy top-cover and choice of platinum or ebony color. It is available in standard or rack-mount chassis in versions with 117- or 230-volt AC power supplies.
It's also Theta's first Blu-ray transport with streaming serveices and e-SATA capability.
Latest posts by Joseph Palenchar
(see all)