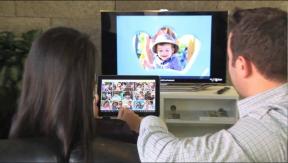 Denver – High-end component-audio supplier Theta Digital unveiled the latest generation of its flagship Music and Cinema Controller.
The modular Casablanca IV, which replaces the Casablanca III HD, retails at $16,245 and up depending on configuration.
Owners of the Casablanca III HD can upgrade their unit to Casablanca IV performance and cosmetics with a $3,995 upgrade that includes an expandable PR-3 post processing card, which adds Dirac Live 96K digital room-correction technology and proprietary and Jitter Jail II technology, which reduces jitter. The upgrade also adds a new display window, new metal tower, new firmware and new software.
The Casablanca IV comes with the PR-3 card, the new metalwork and new display window. The card quadruples DSP power over the previous generation controller, increases audio bandwidth, consolidates all digital inputs onto a single input slot to free up another slot for future expansion, offers space to add additional processing power, and allows for the addition of new instruction sets to accommodate future technology, the company added. Future technology includes new sources and new DSP solutions, the company noted.
Jeff Hipps, Theta Digital's senior VP of sales and marketing, said the upgrade program "continues our commitment to protect the value of the Theta owner's investment while keeping his components at the edge of the art."
Latest posts by Joseph Palenchar
(see all)