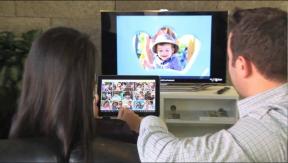 Corona, Calif. — TCL and Marvel Entertainment kicked off a joint promotional campaign Thursday linking Marvel's upcoming "Iron Man 3" movie with TCL's TVs, highlighted by the 110-inch Ultra High-Definition 3D China Star TV that was previewed at January's International CES.
The effort will flag attention to the theatrical release of "Iron Man 3" on May 3, and will combine brand integration and a tie-in promotion that includes placement of TCL's 110-inch Ultra HD inside billionaire, playboy and philanthropist Tony Stark's mansion during an action sequence in the film.
TCL's 110-inch Ultra HD set features multitouch technology, intelligent and dynamic backlight technology, and 800 nits of brightness.
TCL said the China Star display also includes major breakthroughs in the use of high-end lithography, oversized partial affixed technology, and advanced backlight techniques, and it features TCL's self-developed Fine Stereo Performance technology application.
"The successful launch of our 110-inch screen with our patented technology including our Fine Stereo Performance technology application once again proves TCL's research, design and development capabilities," said Li Dongsheng, TCL chairman and CEO. "Not only will TCL benefit from the development of this breakthrough technology, all TV manufacturers in China and overseas will be able to capitalize on this revolutionary product design and provide people with even more enjoyable entertainment experiences."
The Marvel partnership will also showcase a 58-inch 120Hz direct LED TV (model LE58FHDE3010) and a 50-inch 120Hz edge-lit LED LCD TV.
TCL's said the 58-inch model "allows consumers to trade up to a big-screen home-theater experience for the same price they paid for their current 32-inch TV a few years ago."
Similarly, the 50-inch model provides a large screen and thin design at an attractive price point. Both models will come in branded packaging and will be available very soon in the U.S. online at Amazon, Best Buy, Costco and Sam's Club.
TCL can also be found in-store at select Sam's Club and all BJ's Warehouse locations. Pricing will be announced shortly.
"We will continue to expand upon our growing relationship with Hollywood. From our partnerships with blockbuster films such as Marvel's 'The Avengers,' 'Transformers: Dark of the Moon,' 'The Dark Knight Rises' and 'Cloud Atlas,' to the upcoming Marvel's 'Iron Man 3' film, as well as our recent purchase of the naming rights to the world-famous Chinese Theater in Hollywood, we believe it is important for us to leverage our assets and foster relationships with the entertainment community," said Michelle Mao, TCL USA president. "Hollywood provides us with an unrivaled platform to reach the US market and our brand name helps Hollywood make inroads into the Chinese market."
In explaining the decision to back the Iron Man franchise, Q.C. Liang, TCL assistant president and general manager, said, "Our partnership with Marvel's 'Iron Man 3' has been very fruitful, as we share a number of common grounds. Throughout the Iron Man franchise, the lead character Iron Man is one of the very few superheroes that does not possess supernatural abilities, but relies on his innovative ideas, deep engineering expertise and advanced technology to solve problems and create a better world. Similarly at TCL, we always strive to deliver inspiring and a brand-new experience to our consumers through technology innovation."
TCL views the global entertainment industry as one of the definitive mediums in today's society and a branding platform that is unrivaled, even in today's digital age.
TCL will continue to foster and expand its growing relationship with key strategic partners in the entertainment community and researching mutually beneficial partnerships.
Latest posts by Greg Tarr
(see all)