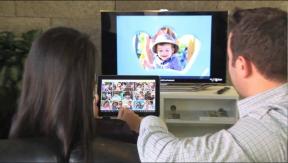 Santa Fe Springs, Calif. –– Swann Security will introduce this afternoon two new app-driven DIY network security cameras.
The SwannEye HD Plug & Play and Pan & Tilt cameras record and save 720p HD video and 1,280 by 720 HD images. Both cameras feature memory card slots (MicroSD for the Plug & Play and SD for the Pan & Tilt) so recordings can easily be transferred to computers or other devices.
Image and video can be saved directly to a smartphone or tablet via the free SwannEye HD app. The app streams live video to the device, or the user can view recorded videos and photos via any iOS, PC or Android device. The app also sends an email notification when motion is detected by the cameras, and it can control the 350-degree horizontal and 100-degree vertical motion of the Pan & Tilt camera.
Swann said it has simplified the setup process by providing a unique QR code with each camera that automatically syncs the camera with the app on the handheld device.
Both cameras have onboard light-sensor-activated IR LEDs, and built-in microphones for audio in real time or during video playback. Additionally, the Pan & Tilt camera includes an audio input jack and speaker to communicate with intruders via smartphone or tablet's microphone.
The cameras ship with ceiling/wall mounting hardware, theft deterrent stickers, a power adapter and network cable.
The SwannEye HD Pan & Tilt retails for $179 and the Plug & Play retails for $129. Both cameras are available at Fry's Electronics and Swann.com.
Latest posts by John Laposky
(see all)