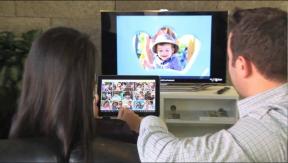 Thousand Oaks, Calif. – SunBriteTV said it is now running a "Best Seat in the House Consumer Rebate" promotion, offering $300 and $400 off select models of outdoor FullHD LCD TVs from the company's Signature Series.
The promotion, which runs through the balance of the year, is providing direct mail-in rebates of $300 on the purchase of a model 4660HD, and $400 on the purchase of a model 5565HD and 6560HD SunBriteTV Signature outdoor TV.
"Whether you're hosting a brisk football party, a sunny BBQ or a family movie night under the stars, a SunBriteTV makes any outdoor gathering more fun," said Tom Dixon, VP of Marketing, SunBriteTV.
Signature Series models are available in a choice of black, silver or white cosmetic trim to complement most locations.
Every SunBriteTV includes a 2-year warranty, a weatherproof remote, and a built-in 20-watt sound system. Optional accessories include wall-, ceiling- or pole-mount installation solutions, dust covers and FM Radio.
All models withstand temperatures from -24 degrees F to 122 degrees F and resist rain, humidity, salt corrosion, dust, and insects. Anti-glare screens are specially designed to filter out bright sunlight reflections and image washout.
Latest posts by Greg Tarr
(see all)