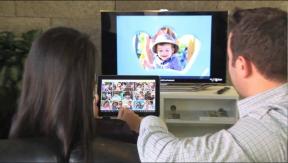 Toronto — Startup Mass Fidelity launched its first product, a $249 Bluetooth receiver promoted as offering CD-quality sound.
The Relay, milled out of a seamless block of aerospace-grade aluminum, is also promoted as looking like a high-end audio component, thanks to its brushed finish and radiused corners.
To deliver the performance of high-end components, the Relay streams AAC and AptX over Bluetooth and features 24-bit Cirrus Logic audio processor, 24-bit Burr-Brown DAC, and dual simultaneous 24-bit/48kHz digital outputs.
With dual digital outputs, users can connect one digital output to a surround receiver or outboard DAC and the second output to a headphone-amp/DAC combo. A gold-plated analog RCA output is also included.
The company was founded by Benjamin Webster, an audiophile, self-taught electronics technician, recording studio owner and recording engineer. The company, which focuses on marrying exterior esthetics with sound quality, plans additional audio products but hasn't released a timetable.
With the Relay, the company contended it can dispel Bluetooth's reputation for fidelity and range limitations. "Bluetooth's reputation springs from poor execution in the cheap Bluetooth audio devices on the market," the company said in a white paper. "The capability for true high fidelity and robust range is there if you know how to do it." Bluetooth's A2DP stereo profile, it pointed out, "can sustain 1.5Mbps constant RF input and allow bursts of up to 3Mbps; that's more than enough data to stream uncompressed better-than-CD-quality audio."
The key to achieving that level of sound quality "is to preserve all the information and keep overall system noise ultra low," the company explained.
Mass Fidelity achieves those two goals by using AAC, AptX, 24-bit audio processors and DACs, and custom proprietary code that synchronizes the device's digital clocks to ensure against timing errors, dropouts and digital artifacts, the company said.
The device also uses an internal power supply with linear low-dropout regulators to ensure that the Relay's semiconductors always receive sufficient low-noise voltage to deliver CD-quality performance, the company added.
For the Relay, the company developed a Party Pairing feature that makes it easier to switch from one Bluetooth source device to another. Users turn Bluetooth off in the first device, turn Bluetooth on in the second device, and select Relay from the second device's user interface. Party Pairing eliminates the need to reset Relay and press its control button a second time, the company explained.
The relay also gradually mutes music volume when a call comes in.
The device measures 1.42 inches by 3.94 inches by 4.5 inches.
Latest posts by Joseph Palenchar
(see all)