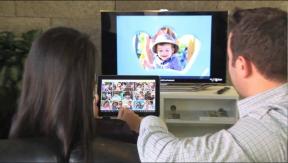 North Dallas – Starpower Home Entertainment Systems is taking the wraps off its newly remodeled flagship showroom next week.
The $3 million makeover includes interactive media rooms, live kitchen vignettes, and a new four-story LED-lit entry tower.
The 15,000-square-foot showroom is the first for the specialty A/V and custom installation chain to feature both CE and appliances. The majaps come courtesy of Ed Kellum & Son, the 64-year-old premium A/V and white-goods dealer that Starpower acquired in 2011.
Majap nameplates include Sub-Zero, Wolf, Viking, Miele, Thermador, Jenn-Air, and KitchenAid, while showcased CE brands include Sony, Samsung, Epson, Bose, Martin Logan and Klipsch. The store also offers custom leather seating and whole-home automation options.
"This is a shopping experience different from any other store," said Starpower chairman Daniel Pidgeon. "The showroom represents over 64 years of appliance experience and 18 years of electronics experience under one roof. There is simply nothing else like it anywhere."
CEO David Pidgeon added that "Interactive media rooms and fully functioning kitchens will enhance the consumer experience."
Starpower will preview the store for the trade this Sunday and open the doors to the public the following Thursday. Grand opening activities will include cooking sessions with Viking and Thermador chefs, a Sony 4K event featuring the Dallas Cowboys Cheerleaders, and live remote broadcasts by local radio stations.
In addition, purchases of $1,500 or greater will qualify customers for a chance to win a pair of platinum-level Dallas Mavericks home game tickets, and special grand-opening pricing will be offered at Starpower's four other locations in Scottsdale, Ariz., and throughout the Dallas metro area.
Starpower also operates a recently relocated Ed Kellum showroom in Dallas.
Latest posts by Alan Wolf
(see all)