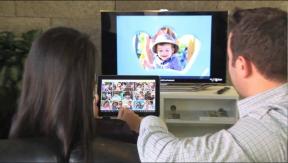 Amherst, N.Y. — Stampede Presentation Products marked a good year at its fourth annual Vendor Summit, held here last week.
The two-day event drew more than 100 manufacturers. Stampede president/COO Kevin Kelly made reported that the distributor of proAV solutions has increased its gross profit this year by 25 percent and its core category unit count growth is up a 76 percent over 2011.
Kelly said, "Through the worst economic challenges of our time, we have succeeded in helping our dealers to spec, finance, and install more ProAV installations than any other distributor in business today. And with the economy slowly, but inexorably improving by the day, we expect to accelerate our rate of growth in 2013."
Kelly reported that Stampede has more than 11,000 dealers in the ProAV market and "more than 125 manufacturers as our partners. "
He added that year-to-date projector dollar sales are up 16 percent and the average wholesale selling price has increased nearly 30 percent in two years. In the category of 3500+ lumens, year-to-date projector sales in dollars are up 21.8 percent and the average wholesale price has increased 15 percent in the last year.
"These sales figures are a perfect example of what can be achieved with a mature product category when the dealer adds value to the system design and installation," Kelly emphasized.
Sales of displays are also up solidly this year, according to Kelly. "Dollar sales are up 39 percent and unit sales are up a staggering 127 percent." But he added that the average unit sale price of displays is declining because of the encroachment by consumer displays into the ProAV market. "This is a trend that we are watching carefully and taking steps to help our dealers counter."