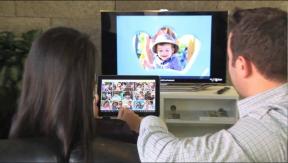 Riverside, Calif. – SpeakerCraft has expanded its Profile series of in-wall and in-ceiling speakers, which feature low-profile grilles and bezel-less design for a less obtrusive look.
The three new additions to the series, launched in 2010, consist of a $499-suggested in-wall subwoofer, a five-pack of budget in-ceiling home theater speakers at $799, and a $399 single-point stereo in-ceiling speaker. All are shipping.
With the additions, installers can build complete home theater and whole-house audio systems from the Profile series, the company said.
The Profile A6 Five-Pak incorporates five A6 in-ceiling speakers, each with 6½-inch polypropylene woofer fixed at a 15 degree angle and a 1-inch pivoting silk-dome tweeter that rotates up to 30 degrees. Each 8-ohm speaker features a high sensitivity rating of 92dB sensitivity at 1-watt/1-meter and 100-watt power handling. Frequency response is 40Hz to 20kHz.
The Profile Cinema Sub10 in-wall sub features 10-inch treated-paper-cone driver with 250 watts of power handling and dual 4-ohm voice coils. Sensitivity is 89dB at 1-watt/1-meter with a frequency response of 30Hz to 800Hz.
The Profile AIM8 DT Three single-point stereo speaker, designed for narrow hallways and other tight spaces, features dual tweeters and an 8-inch dual-voice-coil woofer to reproduce left and right stereo channels from a single speaker. The AIM8 DT Three improves on the original AIM8 DT One by using an aluminum-cone woofer and dual aluminum-dome tweeters to deliver higher sensitivity, better power handling and deeper bass response, the company said. It also adds bass and treble EQ switches.
Like the One, the Three features independently pivoting woofer and the tweeter modules to aim sound toward the main listening spot.
Latest posts by Joseph Palenchar
(see all)