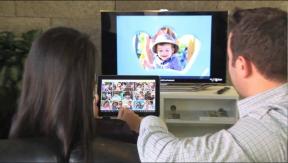 Los Angeles — Soundfreaq is launching its first two docking speakers with eight-pin Lightning connector to charge and play back music from Apple's latest generation of mobile iOS devices.
Both models, however, also play music from a wide range of mobile devices via embedded Bluetooth and an Apple-certified USB port, which enables a cable connection to older Apple devices' 30-pin connector.
"We think it's important to accommodate the shift in the industry with the Lightning dock but at the same time don't want it to be limited to i-devices or lose the convenience of wireless streaming," a spokesperson said of the inclusion of Bluetooth.
The two models are the Sound Step Lightning, available in Target stores at $129, and the AC/DC Sound Step Recharge Lightning with a seven-hour rechargeable battery. It will be available in August for $149 at Soundfreaq.com, Amazon.com and BestBuy.com.
The Lightning connector and USB port of both devices are certified as Made for iPod/iPhone/iPad to charge the Apple devices as well as play music from them. The USB port also recharges mobile devices running other mobile OSs, and the Recharge will charge USB-connected devices even when running on the internal battery.
The models join the original Sound Step and Sound Step Recharge, both of which feature embedded 30-pin connector and Bluetooth but did not have an Apple-certified USB.
Separately, the company announced that owners of the Sound Step, Sound Step Recharge and Sound Stack docking speakers with 30-pin connectors can get a custom dock stand. The stand improves the stability of Lightning-equipped iOS devices whose eight-pin connectors must be plugged into Apple's Lightning-to-30-pin adapter for use with 30-pin docking speakers.
The stand is free, but consumers pay shipping costs.
In outlining the features of the Sound Step Lightning and Recharge Lightning, Soundfreaq said both models offer FM tuner, 2.1-speaker configuration with dedicated subwoofer, and proprietary UQ3 spatial sound enhancement to deliver natural bass and stereo separation from a compact speaker.
The two speakers also feature on-board capacitive touch buttons to control playback directly from the speaker. An IR remote attaches to the bottom when not being used.
Neither streams the AAC or aptX codecs over Bluetooth.
In another development, the company said its $149 Sound Platform 2 Bluetooth speaker, shown at International CES, is available on the company's website and that a $50 battery option will be available by the end of the month for the FM-equipped speaker. Unlike its predecessor, this model features Dual System Streaming, which enables two Sound Platform 2 speakers to be paired together to work as separate left-right speakers. It also features FM tuner, UQ3, and two USB charging ports on back to charge mobile phone and tablets. A universal tray serves as a stand for any Bluetooth device.
Latest posts by Joseph Palenchar
(see all)