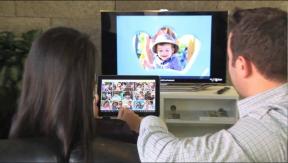 New York – Simultaneous with a press conference at the IFA show in Berlin, Sony Electronics U.S. president Phil Molyneux unveiled here Wednesday his company's first 4K flat panel LCD TV, planned to make its U.S. market launch starting next week.
The company will start showing the XBR-84X900 set in Sony Stores here Sept. 6, before rolling out to retail partners and CEDIA installers, Sept. 7. Official retail pricing will be announced at a CEDIA Expo press conference, Sept. 5, but is expected to be close to $25,000.
Sony's new immersive entertainment products didn't stop there – also announced was a new Android 4.0 tablet line, which Sony will now market under the Xperia brand, used for its mobile phones.
The first such product, called the Xperia Tablet S, features a thinner body design than previous Sony tablets, an NVIDIA Tegra 3 quad-core processor, a full-sized direct-reading SD card slot and HDMI connectivity with optional HDMI adapter cable.
Sony said that bringing tablets under the Xperia brand will help consumers understand that Sony's smartphones and tablets offer a consistent and immersive entertainment experience.
Molyneux cited consumer research showing that better than 80 percent of tablet owners in the U.S. use their tablets in the living room, and are multi-tasking with their tablets while watching TV.
To capitalize on that trend, the new tablet includes an advanced home theater universal remote control app with macro features that allow turning on and cuing up a program to view on the system with the push of a button.
Sony has also added a slick graphic user interface for viewing movie and TV content, called WatchNow, that makes program recommendations based on user data and allows tuning the TV in the room to a selected program with the swipe of a finger toward the TV screen.
The tablets include a splash-proof design and were also made family friendlier by adding a Guest Mode feature that allows for personalized configurations by different users by displaying different wallpaper, applications and widgets. The tablet owner can manage access for any friend or family member by regulating which apps and widgets are accessible by others.
The Tablet S will ship starting next week in three versions based on storage capacity – a 16GB version carries a $399 suggested retail, a 32GB version is $499 and a 64GB version is $599.
Meanwhile the 84-inch XBR-84X900 features an LCD panel with 3,840-by-2,160 pixels (aka 4K resolution) and features 3D capability based on passive non-powered glasses technology – a first for Sony, which has championed the cause of active-shutter 3D glasses in the past 3D HD LCD TV displays.
This marks the second year in a row that Sony has chosen to debut a 4K display at the custom electronics trade show. Last year, Sony unveiled its 4K SXRD-based front projector – the VLP-VW1000ES – billed as the first consumer level display device with native 4K resolution.
The XBR-84X900 incorporates Sony's X-Reality Pro upscaling to present lower resolution material on the denser-pixel screen. The system even works on still images supplied by an attached digital camera. The technology is said to eliminate many of the artifacts that degrade picture quality when blown up on larger format screens.
Still images can also be presented on the set using Sony's Play Memories Studio software via a PlayStation 3 game console.
The set's passive 3D glasses support marks the second 84-inch 4K display using passive glasses technology announced at IFA. LG, which is the other, is a major OEM supplier of LCD panels.
"It's our most advanced, most immersive ground-breaking TV, ever," Molyneux told members of the press at the U.S. unveiling the set. "The differentiation in the panel comes from the brain within the product, called the X-Reality Pro 4K engine. That's what gives the set its beautifully vivid picture."
Sony's set also incorporates a full-body 50-watt audio system using a built-in 10-speaker system, said to be optimized for the large-sized screens, and using Sony's virtual 5.1-channel sound processing technology.
The side speakers also connect to an existing home theater system.
Meanwhile, Sony is starting to stock pile natively produced 4K material for eventual distribution to 4K displays like the XB4-84X900.
Sony said a number of movies are now in production using a new Sony native 4K professional camera and Sony recording artist Taylor Swift recently shot the first-ever 4K music video.
Latest posts by Greg Tarr
(see all)