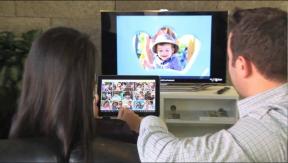 Culver City, Calif. — Sony Pictures Home Entertainment and Vudu, the Walmart-owned video-streaming service, launched Wednesday a new interactive movie-watching experience called Vudu Extras+.
The new service enhancement will offer with select titles interactive extra content, like that packaged with DVD and Blu-ray Disc titles online.
Extras+ will also include an enhanced scene-search tool that lets viewers search movie content, such as dialogues, videos, photos and extras, and instantly jump to favorite scenes. It will have Clip & Share feature that enables selecting a clip from a film to share with friends on Facebook and Twitter, and it also features deleted scenes, featurettes and interactive movie trivia games.
Vudu Extras+ is available now with "District9" and other Sony Pictures titles, including "This is the End," "After Earth," "White House Down," "Grown Ups 2," "Mortal Instruments" and "Smurfs 2." "One Direction – This is Us" will launch later this year.
The select Sony Pictures titles with Extras+ will be available through Vudu on the Cloud with UltraViolet.
David Bishop, Sony Pictures Home Entertainment president, said that Vudu Extras+ "will enhance the value proposition of digital ownership which is so key to the future success and strength of the home entertainment industry. Our intention is that it will evolve it into an industry standard for use across multiple studios and services."
"Sony Pictures Home Entertainment and Vudu developed Vudu Extras+ with the movie fan in mind. We wanted to give fans new ways to interact with the digital movies they own," said Amit Balan, Vudu marketing and merchandising head. "The launch of Vudu Extras+ is an exciting innovation that enhances the way people watch and enjoy movies."
Vudu Extras+ is available to preview before purchasing the movie. Consumers can access the full Vudu Extras+ offering upon purchase of a movie or redeem their UltraViolet code on Vudu.
Vudu users who already have the movie in their library will get access to the Vudu Extras+ experience at no extra charge, Vudu said.
Vudu Extras+ for "District 9" is available now on PC and Mac, with additional titles and platforms coming soon.
Latest posts by Greg Tarr
(see all)