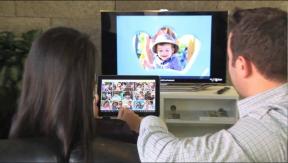 San Diego — Sony Electronics has debuted two soundbars and a sound system, all set for April availability.
The audio introductions come on the same day as the SXRD-based FullHD 3D home cinema projector, the VPL-HW40ES.
The HT-CT770 and HT-CT370 soundbars feature a 2.1-channel surround-sound system.
The HT-CT770 has a 330-watt S-Master amplifier that powers a two-way, four-speaker soundbar and wireless subwoofer. The HT-CT370 has a 300 watt S-Master amp. The S-Force digital signal processing in both creates a virtual front surround experience, Sony said.
Both soundbars allow Bluetooth audio streaming via NFC.
Both models have a slim 2-inch-high profile for wall mounting or placement on a tabletop TV stand without obscuring the TV screen or interfering with remote functionality. Both models include a gyro sensor in the audio processor that can detect what position the bar is in to deliver the best possible sound.
The HT-CT770 has a 120-watt down-firing wireless subwoofer designed to fill larger spaces with a strong bass presence, while the HT-CT370 features a 100-watt wireless subwoofer. Additionally, the HT-CT370 subwoofer has a flexible design that permits either a horizontal or vertical placement to best fit any space. Both have a powerful bass reflex design and S-Master amplifier to deliver low bass frequencies, Sony said.
Both soundbars offer 4K and 3D pass-through using the three HDMI 2.0 inputs for connecting HD devices such as a cable box, Blu-ray Disc player or gaming console. A single HDMI TV connection with Audio Return Channel (ARC) ensures the best possible HD audio signal, the company said. Additionally, both models include digital optical and analog inputs. The audio processor supports most HD formats including Dolby TrueHD and DTS-HD.
Both models offer seven selectable sound modes and adjustable voice and subwoofer level controls. In addition to the included user-friendly remote control, they can be controlled seamlessly over Bluetooth with the SongPal app.
This free downloadable app for both Android and compatible iPhone or iPod devices, provides full system control and allows users to navigate and stream music apps, such as Pandora and Spotify.
The HT-XT1 offers a simple, single-unit solution for customers looking for better sound, Sony said. It is 170 watts and features 2.1 channel S-force front surround-sound and integrated dual active subwoofers. It also supports Dolby TrueHD and DTS-HD audio formats.
The elevated chassis maximizes the performance of the dual subwoofers and the scratch-resistant glass finish supports TVs up to 66 pounds and 55 inches.
Like the HT-CT770 and HT-CT370, the HT-XT1 sound system has the same HDMI connectivity and audio control options. It also supports Bluetooth with NFC and easy control via SongPal app.
The HT-CT770, HT-CT370 and HT-XT1 will be available in April for a suggested retail of $449, $349 and $299 at Sony stores and other authorized dealers nationwide.