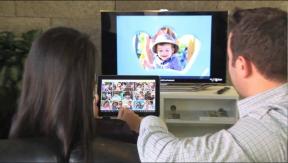 Santa Barbara, Calif. — Sonos is updating its control app for tablets and smartphones by updating the user interface and launching a new universal search function.
The Android and iOS apps will be available in the spring, though a beta version of the Android app is available today. Updated desktop controllers for Apple computers and PCs will be available "later this year," the company added.
The universal search feature will enable users of Sonos' wireless multiroom-audio systems to search across networked devices in the home for a particular song or for a particular artist, a spokesman told TWICE. The app will also search Sonos music services for a particular artist or song if, for example, a radio station were created based on a song or artist, he said. When users search for an artist in one window across all of their music services, they could choose to play their radio station on Pandora, look up their album on Spotify, or play one of their latest tracks through Hype Machine, Sonos added.
"A refreshed design and simplified interface" are designed to make it easier to find music, the company said. The app features three main modules that allow for navigation between music currently playing, the room in which it is playing, and how to find the next song that a user wants, the company explained.
Latest posts by Joseph Palenchar
(see all)