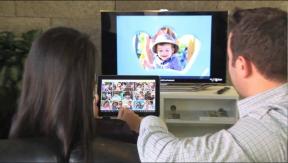 Mahwah, N.J. — Its 70-inch Ultra High-Definition TV isn't even on the street yet and already Sharp Electronics has cut its original asking price, the company revealed to TWICE Tuesday.
A Sharp spokesperson told TWICE that the 70-inch Sharp Aquos LC-70UD1U has had its manufacturer's suggested retail price lowered $500 from $7,999 to $7,499, and its new unilateral pricing policy (UPP) retail tag is now set at $5,999, reflecting a $2,000 drop from the UPP originally announced at launch.
A Sharp spokesperson said Sharp had previously told dealers after the launch event that it adjusted the UPP from $7,999 announced at CE Week last July to $6,999 and with the latest move this week, drops the UPP another $1,000 to $5,999.
The UPP is the absolute minimum price Sharp expects its authorized dealers to sell the product for, without potentially jeopardizing their distribution status.
The set will have a national retail launch on Sept. 15 at leading Sharp retail partners in regional locations around the country, the company said.
Sharp is working with national specialty retailers, major regional retailers and Amazon.com, the company said.
When it arrives, the Sharp Aquos Ultra LC-70UD1U will be the world's first THX-4K-certified display.
Key features include LED-backlighting, 3,840 by 2,160 Ultra HD (a.k.a. 4K) resolution, built-in Wi-Fi connectivity, smart apps library, Flash-enabled browser, and Sharp's Remote Control and signal sharing applications that allow controlling and streaming various media using an Android or iOS mobile device.
The set also includes the company's proprietary DuoBass audio technology, with two subwoofers built into the screen, along with a pair of forward-facing tweeters and midrange drivers along the bottom edge to brighten the clarity of the soundtracks and audio.
Sharp's price reduction follows a string of price cuts imposed last week by manufacturers including Sony, Samsung and LG. Most of those cuts whacked $1,000 to $1,500 off of the UPP price tags originally set by the manufacturers.
Most of the manufacturers cited competitive price moves and improved production efficiencies as their explanations for the actions.
The TV makers are also competing against a couple of Chinese manufacturers including Seiki and TCL, which have announced prices starting less than $2,000 and $1,000, respectively, for smaller-screen 4K products.
Latest posts by Greg Tarr
(see all)