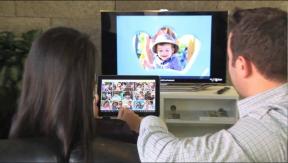 Las Vegas – CEA president Gary Shapiro led U.S. Commerce Secretary Penny Pritzker on a wide ranging discussion Wednesday afternoon that included some tough talk regarding the Obama Administration's stance toward business.
Pritzker, who was named to her position in June 2013, discussed how the Commerce Department is attempting to create a better environment overseas so American companies can compete. This includes having teams overseas that can help U.S. corporations deal with the local government.
"The President wants the business community to know that he supports them," Pritzker said.
However, Shapiro said that in his travels around the country he has heard the opposite and that the general feeling among business professionals was the Obama administration looked down upon them and often used them as a scapegoat.
Pritzker refuted that statement saying that the president and vice president are fully supportive of business. She backed her statement noting that the president is attempting to push through changes to the corporate tax structure and immigration reform.
Pritzker gave a brief overview of the work her department is doing to prevent patent trolling, enabling inventors to more easily obtain patens and ensuring that those patents issued are strong and easily defendable in court. All these measures, she believes, will help alleviate the problem of trolling going forward.
Pritzker said there are topics on which business leaders are requesting assistance, primarily trade agreements, particularly with China, and immigration reform.
"We have to convince China that free trade is good and we are working on this with their new government," she said.
Shapiro said that immigration reform was one of the areas where business and the government agreed, but business wanted reform to make it easier for highly educated immigrants to stay, while the Obama administration is trying to be more inclusive.
He noted that several years ago Apple founder Steve Jobs told the President that be increasing the scope of the immigration reform policy would mean its death in Congress.
"It seems Steve Jobs was pretty prescient with that," Shapiro said.
Pritzker commented on International CES, saying this is her first show and that the seeing all the companies showing their innovative wares on the show floor was particularly pleasing.
"CES is a commerce secretary's dream," she said.
Latest posts by Doug Olenick
(see all)