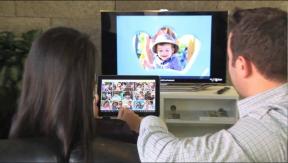 Arlington, Va. — U.S. Senator Mark Warner (D-Va.) used a special Town Hall session hosted by the Consumer Electronics Association (CEA) Wednesday to issue a call for both new patent legislation and immigration reform to help drive capital investment and keep creative talent in the United States.
"Could you imagine a worse business policy and growth policy for the United States than the current immigration rules we have?" asked Warner in his remarks. "We train our world's best and brightest, and somebody gets that Ph.D. in engineering at Virginia Tech, and then we send them home, or else they go across the border to Canada, because Canada, the U.K. and Australia are aggressively pursuing high-skilled immigration."
Warner also underscored the importance of the Senate's pending actions on patent litigation reform legislation to protect U.S. small businesses from so-called patent trolls.
The House successfully addressed patent reform legislation in December, overwhelmingly passing the Innovation Act with bipartisan support.
"As somebody who has invested in companies that were absolutely devastated by patent trolls, I have felt the pain," Warner said. "It used to be kind of small guys vs. big guys. That's totally transformed. Now patent trolls build up intellectual property as a weapon for litigation rather than a tool of innovation. That makes no sense."
Gary Shapiro, CEA president and CEO, said the senator's decades of experience in the technology sector makes him ideally suited to spur the patent reform bill.
"Senator Warner saw firsthand what it's like to deal with the legalized extortion rackets of patent trolls," said Shapiro. "He knows all too well that patent trolls choke our economy, stifle innovation and kill job growth, and something must be done to protect small businesses. That ball is now in the Senate's court."
Other key tech-related issues addressed by Warner included the upcoming Federal Communications Commission (FCC) TV broadcast spectrum incentive auction, which he said must avoid any further delays.
"The fact is, America's behind. You go to Korea, you go to Europe, and they've done a much better job at managing their spectrum," Warner said. "I think there's a win-win here. Incentive auctions will give proceeds to broadcasters for migrating, while also freeing up additional spectrum for other commercial uses."
He added that further spectrum clearing is needed "to move existing operators into other spectrum. Most of the spectrum that we have right now is in the government's hands."
"Spectrum is the oxygen of innovation, but it's in short supply," said Shapiro. "Wireless carriers and innovators are desperately looking for ways to increase the amount of spectrum they can use for content transfer. But unfortunately broadcasters, the biggest users of spectrum, continue to place roadblocks that maintain their lock on the spectrum they occupy."