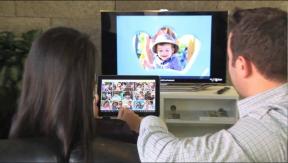 Seiki model SE65UY04, which will hit retail shelves in December at a $2,999 suggested retail, is Seiki's largest Ultra HD edge-lit LED LCD TV to date. The company also offers a 50-inch model at a current $1,199 street price and a 39-inch Ultra HD monitor for $699.
The 65-inch iteration features a 3,840 by 2,160 resolution and a 120Hz refresh rate.
The set includes an HDMI 1.4 port that will accept 1080p signals and 4K signals at up to a 30p frame rate.
Frank Kendzora, Tongfang Global, Seiki Digital brand executive VP, said, "It's no secret that the Seiki brand is the price leader in the 4K Ultra HD category, and we aim to further our market leadership by offering the best value in large-screen 4K Ultra HD TVs with exceptional picture and build quality."
The new set features a thin piano-black bezel, built-in digital and analog channel tuning, USB port for displaying 4K photos via a USB flash drive, and multiple video and audio connections to support current high-definition video content. The model is also packaged with an HDMI 1.4 standard cable.
Seiki supports its TV products with "a one-year, no-nonsense, replacement warranty."